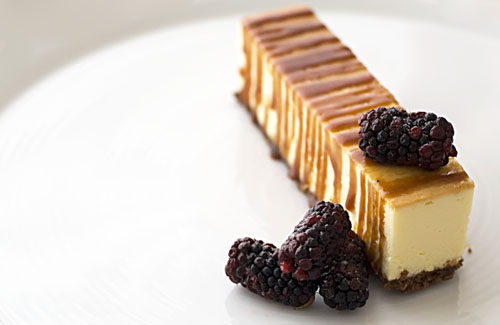 (Helen's Pillow Cheesecake with salted butter caramel sauce)
So I woke up this morning and wondered where on earth my holiday had gone to. I looked for it in all the typical places – the back pockets of my favourite pair of jeans, behind the door, under the couch – before realising that just like the last cookie in the jar, my holiday had already been consumed.
With typical perfect timing, my oven has also chosen this very moment, to break down. This oven, the sun, all pushing me towards the inevitable conclusion that is, the start of work.
Sigh.
In examining the remaining crumbs of my holiday, I realised that despite it's brevity, there's probably not much I could complain about. The weather had been kind, I managed to squeeze in some face-time with a few close friends and I started and finished two books (The White Tiger by Aravind Adiga and Surrender by Sonya Hartnett); an accomplishment these days when cookbooks are my main distraction.
Countless days of sleeping-in aside, my employers might be quite glad to hear that I've missed work and am actually looking forward to returning. Not to take anything away from the fact that I loved the kicked up feet, the new indent I'd made in our couch and the pleasure of forgetting-what-day-it-was. Some people have claimed I perform best under pressure and while I've vocally pishposh-ed their opinion, I've also quietly thanked them for the compliment. In our industry, to be told that you perform well under pressure is like getting the cherry bonus in a game of PacMan. (Confession : I don't play PacMan particularly well).
I have decided to commemorate my return to work with a post and a giveaway. Since I've been on holiday (read : lazy), I haven't been taking many pictures, so had to dig up a photo taken late last year of a cheesecake I made after coming across an old post of Helen's. You can find the recipe here, and believe me when I say, this recipe is as much about the cheesecake as it is about that salted butter caramel sauce. Do not attempt to make one without the other!
As for the giveaway, I have to admit that this blog has never been able to afford giveaways. Lemonpi started out as a personal journal and I'd like to think it will always remain that way. I have no grandiose plans for it. It just is, and while it remains fun, it will continue to exist. So for my giveaway, I'm offering free compassion* to every reader who leaves a comment. If compassion isn't your thing, then I hope you at least got a free smile for the day, from reading this post.
*Compassion is limited to one comment per reader only.
Tags: blackberry, caramel, cheesecake, cocoa, lemon