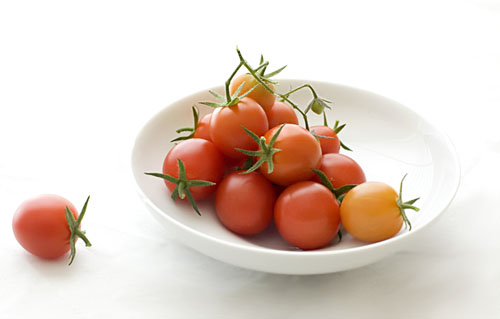 (Vine-ripened tomatoes from our garden)
If there's one thing this hot weather has going for it, it's that you start to notice the garden suddenly springing to life. This is especially remarkable (and thrilling) as I'm not known for my gardening prowess. So far this season, our little balcony has supplied us with a selection of fresh herbs and a decent crop of tomatoes from two potted plants. I have been picking them only when required, to preserve their incredibly fresh and sweet taste from pot to plate. In fact, this crop has been so sweet that I decided I should also make a dessert out of them.
A batch of caramelised baby tomato and black olive tea cakes was the end result.
The inclusion of olives in these cakes stems from my renewed interest in the flavours of black olives and olive oil. Strangely enough, while I have often cooked with olive oil in the past, it's only been recently that I've started to fully appreciate the beauty of a good quality extra virgin olive oil. The use of olives and olive oil in desserts aren't a new thing either. I especially like black olives for their salty/briny flavour, which works well in tempering the sugar levels of a dish. Olives pair beautifully with citrus, pine nuts, tomatoes, strawberries, white chocolate, basil and fresh cheese.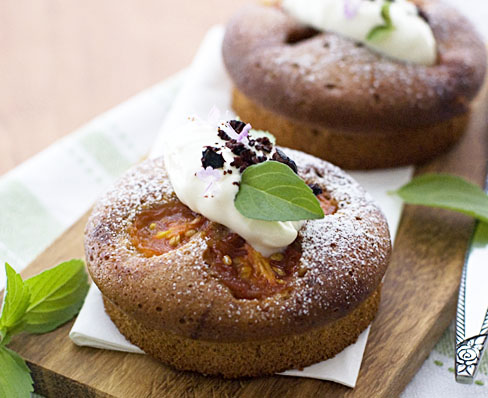 This is exactly my kind of cake. Despite being slightly unusual, you could argue that it's in keeping with classic flavours. Continuing with the Summer theme, I served the cakes with dollops of fresh thick yogurt but there's no reason why these can't also be served with ice-cream or whipped vanilla cream, especially if you tend towards the sweeter spectrum of things.
If the garden continues to prove fruitful, I certainly forsee more tomato-themed treats in the near future.
Tags: black olive, buckwheat, olive oil, teacake, tomato, yogurt