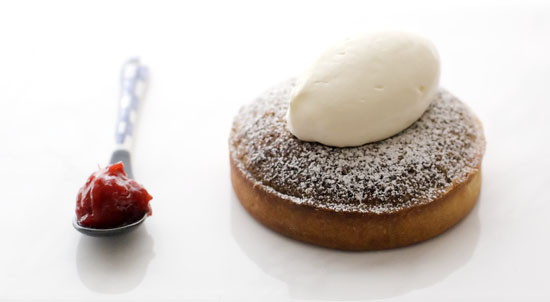 (Rhubarb, hazelnut and black sesame Bakewell tart)
The June Daring Bakers' challenge was hosted by Jasmine of Confessions of a Cardamom Addict and Annemarie of Ambrosia and Nectar. They chose a Traditional (UK) Bakewell Tart… er… pudding that was inspired by a rich baking history dating back to the 1800's in England.
The humble Bakewell tart is a simple pleasure. It is easy to bake and is the consummate crowd pleaser. I'm quite fond of frangipane too, especially when it's freshly baked. Often when I make such tarts, I like to brush a bit of syrup on top of the tart while it's still warm. It adds a bit of flavour (eg. use an Armagnac syrup, if you're making a prune frangipane tart) and also ensures that the interior is moist. I also don't mind saying that it's nice to get the odd challenge where you have to think of nothing more complicated than what jam it is you'd like for your tart base.
However, time managed to rapidly sift through my hands this month such that the real challenge was trying to find a moment to make the tart. So unfortunately, this turned out to be a bit of a last-minute effort.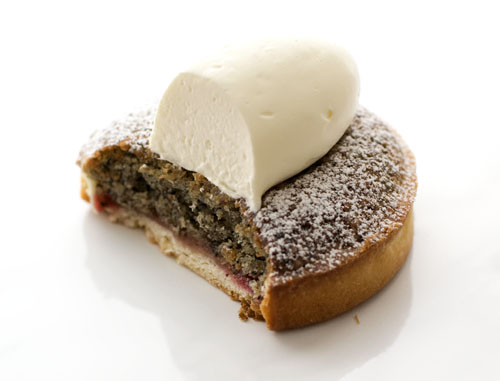 My version of the Bakewell Tart for this challenge uses a vanilla rhubarb compote as the jam option, and I have varied the filling to include hazelnut and black sesame flavours, which I prefer to plain almond meal.
Because frangipane is also extremely delicious as a tuile (spread thinly on a silpat mat and baked until crisp), I decided to throw together a parfait/verrine version of the Bakewell tart, with some toasted almond milk froth to boost the nutty flavour you would get from eating a normal slice of tart.
Many thanks to Jasmine and Annemarie for the tasty challenge!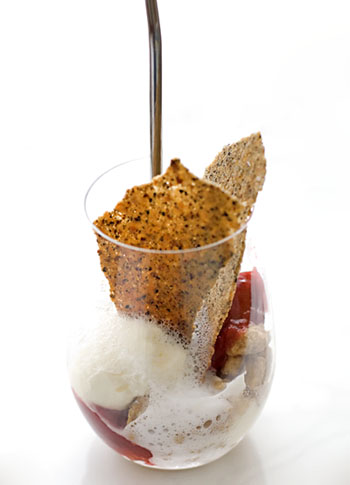 Sweet shortcrust pastry :
225g plain flour
30g sugar
2.5ml (½ tsp) salt
110g unsalted butter, cold
2 egg yolks
2.5ml (½ tsp) almond extract (optional)
15-30ml (1-2 Tbsp) cold water
Sift together flour, sugar and salt. Grate butter into the flour mixture, using the large hole-side of a box grater. Using your finger tips only, and working very quickly, rub the fat into the flour until the mixture resembles bread crumbs. Set aside.
Lightly beat the egg yolks with the almond extract (if using) and quickly mix into the flour mixture. Keep mixing while dribbling in the water, only adding enough to form a cohesive and slightly sticky dough.
Form the dough into a disc, wrap in cling and refrigerate for at least 30 minutes.
Frangipane :
125g unsalted butter, softened
125g icing sugar
3 eggs
2.5ml (½ tsp) almond extract [I used vanilla instead]
125g ground almonds [I used a combination of hazelnut meal and ground black sesame seeds]
30g all purpose flour
Cream butter and sugar together for about a minute or until the mixture is very fluffy. Scrape down the side of the bowl and add the eggs, one at a time, beating well after each addition. After all three are in, pour in the almond extract and mix for about another 30 seconds and scrape down the sides again. With the beaters on, spoon in the ground nuts and the flour. Mix well. The mixture will be soft, keep its slightly curdled look (mostly from the almonds) and retain its pallid yellow colour.
To assemble, roll out the sweet pastry to line a 23cm tart tin. Trim the excess pastry, chill for 15 minutes, then spread the base with 250ml of jam or curd of your choice. Top with frangipane and bake in an oven preheated to 200'C for 30 minutes. Five minutes before the tart is done, remove it from the oven and top with a handful of flaked almonds, then return to the oven for the last five minutes of baking. When tart is done, remove from the oven and cool before slicing.
Tags: black sesame, Daring Bakers, rhubarb, tart