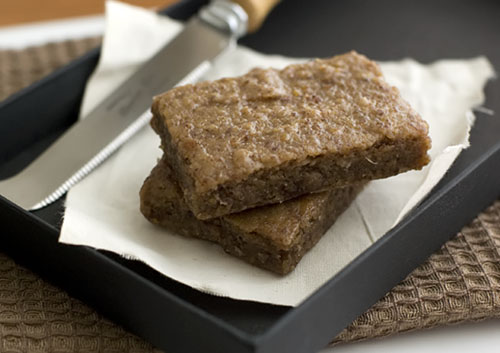 (Chickpea 'Blondies')
I feel a certain calmness these days that I haven't felt in a long while. Is it that the air seems crisper and fresher? I'll admit, I'm more aware these days that I'm getting older. I've adopted that sing-song voice when I talk to friends' kids. The guy behind the counter at the local liquor store has long since forgotten to ask me for ID. Face cream, not ice-cream, is now an important daily ritual.
Of course, I still love ice-cream, but am becoming increasingly conscious of the need to eat healthily. My heart still beats faster for butter but I've also found new things to be excited about. Not forgetting my foray into the world of black bean brownies, I've become equally excited about Celine's chickpea 'blondies'. The fact that a combination as unusual as strawberry jam, tahini and chickpeas can be delicious and as an added bonus, healthy and vegan, is what I find so interesting.
(Tofu salad with sesame sauce)
In the spirit of the vegan recipes and wholesome eating, I'm including a beautiful vegan-friendly tofu and sesame dish, adapted from a chicken recipe by Harumi Kurihara from her book, Harumi's Japanese Cooking. I'm a big fan of cucumber, and happily eat it with most things (especially in sandwiches). If you happen to dislike cucumber, you can easily replace it with any other vegetable, such as shredded cabbage, carrot, beansprouts etc. This dish is wonderful as an appetiser, or can be served with rice or soba noodles as the main event.
You can find the recipe for chickpea 'blondies' here.
Tofu salad with sesame sauce :
(serves 4, or 2 hungry people)
50g spring onion (scallions), finely shredded
200g cucumber (or a mixture of your favourite vegetables)
250g firm tofu, cut into strips or cubes
50g green beans, blanched and refreshed
1/4 bunch coriander, leaves picked and roughly chopped or torn
for the sesame sauce :
1/4 cup (50ml) chicken stock
1/2 teaspoon sesame oil
4 tablespoons tahini
2 tablespoons soy sauce
2 tablespoons caster sugar
1/2 tablespoon rice vinegar
1 tablespoon sesame seeds, lightly toasted
1 small red chilli, finely chopped
2 teaspoons ginger, finely chopped
2 teaspoons garlic, finely chopped
Cut the cucumber in half, remove the seeds with a spoon, and slice the remaining flesh into batons. Combine the cucumber and remaining ingredients in a bowl.
Mix all the ingredients for the sesame sauce in a separate bowl, the pour it over the tofu and cucumber. Toss well, adjust the seasoning with salt and pepper, and serve.
(PS: I'm dedicating this recipe to a good friend in Alaska, who kindly reads my blog every now and then, and somehow manages to comment occasionally even though he doesn't have much interest in baking. There you go W., I've got a savoury recipe for you to try!)
Tags: blondie, chickpeas, jam, salad, savoury, sesame, tahini, vegan