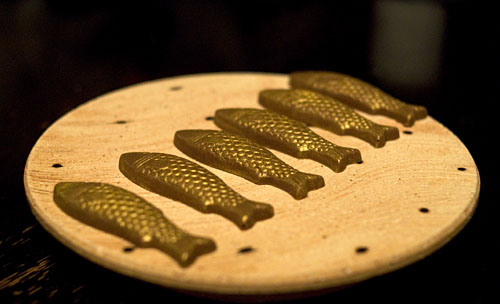 (Gold-dusted milk chocolate fish)
Two words : Oz Roll. Translation? Fish and chips in a sushi roll. With tomato sauce.
Rest assured, this is not why I'm writing about Koi. In fact, I rarely write about the restaurants we visit these days. I did however want to mention this modern Japanese restaurant in Woolwich, because we had a great meal there recently and I'm hoping that anyone reading this will feel compelled to pay it a visit as well.
(Seared scallop carpaccio, green salad with tofu)
This isn't exactly a brand new restaurant, yet it had somehow managed to fall under our radar until recently. A booking was finally made at the recommendation of a friend, and I dragged my family along because we are constantly in search of the next Japanese restaurant to check out.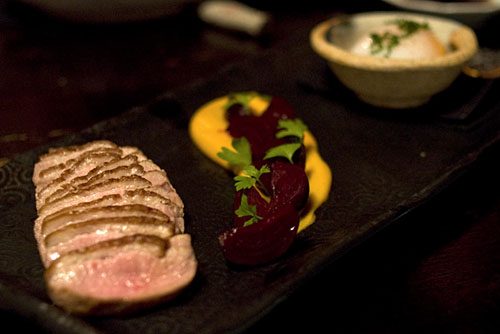 (Duck, beetroot and 64 degree duck egg)
We did not order the Oz Roll, but did manage to try quite a few other dishes. Highly recommended are the miso cod, the mushrooms with aspagarus dish (which is comforting and earthy, and redolent with the aromas of sesame), and the unbelievably fresh and crisp tempura.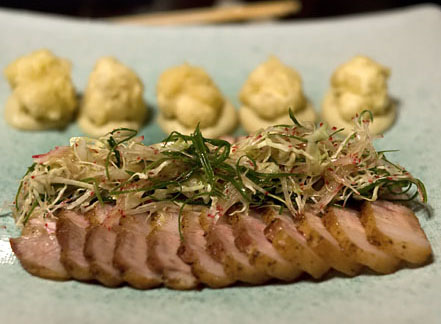 (Kurobuta pork cutlet, truffled cauliflower and puree)
Of course I'm not advising anyone to go and expect the superlative Japanese restaurant experience. Koi is not without it's flaws. What makes it a memorable dining experience (apart from a few stand-out dishes) is the little details that other restaurants often fall short on. The manager notices our dishes are slow coming out of the kitchen and even though we don't say anything about it, we are later offered two complimentary dishes (a stunning vinegared white fish dish) as an apology.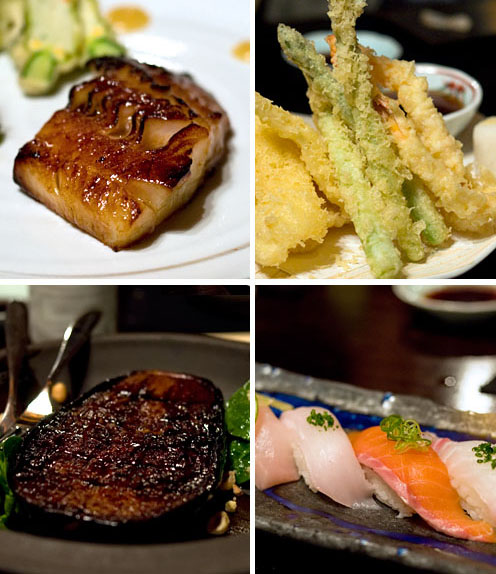 (clockwise from top left : Miso cod, tempura vegetables, nigiri sushi, nasu dengaku)
When we find the eggplant in the nasu dengaku a little undercooked for our tastes, the dish is swiftly removed from the table, and a whole new one is prepared for us, this time a little more cooked than before. Even though ultimately a little disappointing, I like the dish for it's combination of hazelnuts and the sweet eggplant, and for the fact that it's not wallowing in oil as some nasu dengaku dishes can be.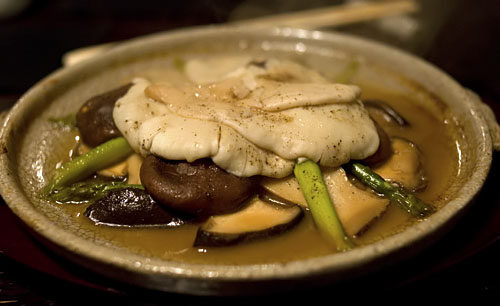 (King brown, shiitake and oyster mushrooms with asparagus)
The evening ends with a complimentary palate cleanser of green tea mousse and green tea granita, and a plate of shimmering fish-shaped chocolates. I leave, feeling impressed and happy at the thought that there are actually fine dining places on my side of the Bridge, worth visiting.
Koi
102 Woolwich Rd
Woolwich 2110.
(02) 9817 6030
Tags: Japanese, Koi, restaurant, Sydney