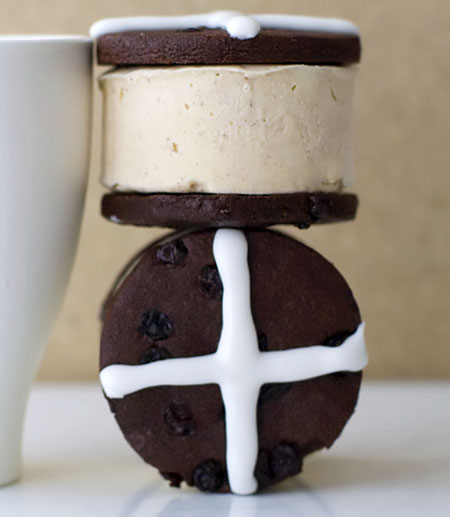 For most kids, Easter usually means school holidays, trips to the Royal Easter Show, swapping chocolate eggs with friends, and eating countless hot cross buns. I was certainly one of those kids, but these days I like to bake my own hot cross buns.
So far, I haven't managed to do that this year. Not from lack of wanting to, mind you. I've just been a little busy with this and that. So a few days ago while I was making some chocolate cookie dough, it occured to me that I could rectify my hot cross bun-less situation.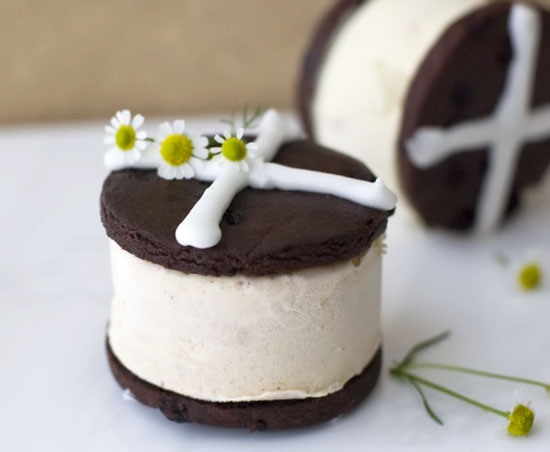 The dough ended up being made into these caramel and chestnut cookies, but I also saved some dough scraps which I then added some raisins to, rolled out again and cut as rounds. Once baked, I piped crosses over the top of each cookie, using royal icing, and sandwiched them between vanilla ice-cream flavoured with lots of nutmeg, allspice and cinnamon (since I like my hot cross buns spicy).
I'm quoting the recipe for the basic chocolate cookie dough below, because it's a handy one to have. As Fran Bigelow says in her cookbook, it is a very versatile dough which you can use not just for cookies, but also as a tart shell. I can imagine them being used to sandwich some salty caramel ganache, or mint flavoured buttercream or even fashioned into homemade Oreos somehow. In the meantime, I'm happy to have some Easter fare to enjoy.
Hot-Cross-Bun-Ice-Cream-Cookie-Sandwiches? Takes ten minutes to pronounce, I know, but only two seconds to scoff down.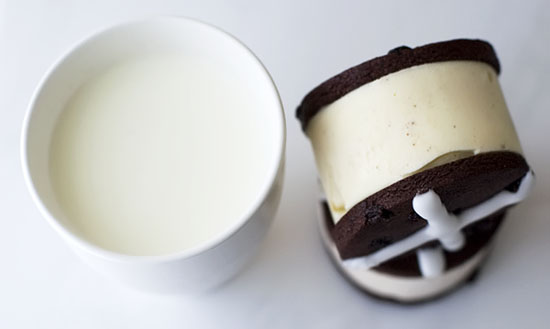 Chocolate wafers :
(makes 24 cookies; recipe from Pure Chocolate by Fran Bigelow)
170g unsalted butter, at room temperature
1 cup sugar
2/3 cup dark Dutch-processed cocoa powder, sifted
1 large egg
1 1/2 teaspoons pure vanilla extract
1 1/4 cups flour
In a mixer with a paddle attachment, cream the butter and sugar on medium-high speed until fluffy, about 4 minutes.
Add the cocoa powder and mix on low speed until well combined. Scrape down the sides of the mixing bowl.
Add the egg and vanilla and blend thoroughly, scraping down the sides of the mixing bowl. Add the flour. Mix on low speed until the dough begins to hold together. Wrap the dough in plastic wrap and chill until firm, about 4 hours or overnight.
To bake, position an oven rack in the middle of the oven and preheat the oven to 162'C. Line a cookie sheet or two with parchment paper of Silpats.
Working quickly, on a lightly floured surface roll half the dough into a 12 x 12 inch square, about 1/8 inch thick. Using a 3 1/4 inch round cookie cutter, cut out about 12 cookies. With a metal spatula, transfer to a lined cookie sheet. Pierce each cookie with the tines of a fork several times. Bake for 8 to 10 minutes, until slightly dull on top. [Note : Mine were a little thicker and took slightly longer to bake] Transfer to racks to cool. They will crisp as they cool.
Repeat with the remaining dough, gathering the scraps together and gently kneading into a second batch. Store in an airtight container as long as 1 week.