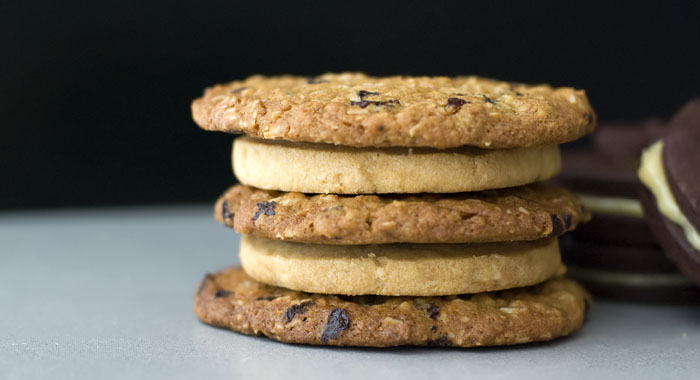 (Tartine's Lime-Oatmeal-Currant Cookies, Belinda Jeffery's Salty Peanut Butter Cookies)
The other day, my mother asked me if I would make some cookies for the upcoming visit of my sister and her family. Of course, I said yes straight away.
My sister, if you must know, is the model child in our family. Not only did she graduate from University with an honours degree, but she's now married, and she had a wedding, which my mother got to organise in its entirety. She also now has two lovely little girls (and because she lives in New Zealand, my mother can play Granny without having to babysit too often). Furthermore, her husband happens to be the son of one of my dad's childhood friends.
Even though being different personality types meant that we quarrelled a lot as kids (later to be united in our irritation of our much younger brother .. whom I must stress that I also love, just in case he reads this), I am in great debt to her because she was the one who introduced me to all kinds of literature. From Enid Blyton to Ursula K. Le Guin, Neil Gaiman and William Gibson. Also, I still can't imagine anyone else but my sister, who had no interest in my kind of music whatsoever, acquiescing to chaperone me to some extremely seedy pub in a dodgy location, just so that I could see a band I was obsessed with at the time.
When we were kids, we were rarely allowed to eat any kind of cookie beyond plain Marie biscuits or maybe homemade gingerbread. It was only during each Chinese New Year that there would be the unavoidable abundance of Chinese peanut cookies, love letters and tins of Danish butter cookies that at the time, we considered the ultimate luxury item.
I haven't baked any cookies in awhile, so I guess I went a little bit overboard. This time, I have attempted a few new recipes, as well as some old favourites, like Alice Medrich's Sesame Seed Coins. These cookies, which are quite similar in texture to Chinese Peanut Cookies, are incredibly tender and full of sesame flavour. In fact, you can even make them with peanut butter instead of tahini, but I think the original will always be the one I like best.
A good cookie, I believe, is like a celebration. A celebration of good ingredients, encapsulated in a few small bites. It connects me with the cup of tea I drink, the couch I'm slumped on, and the television I'm staring at, or a friend I'm celebrating the return of and the sister I'm looking forward to seeing again.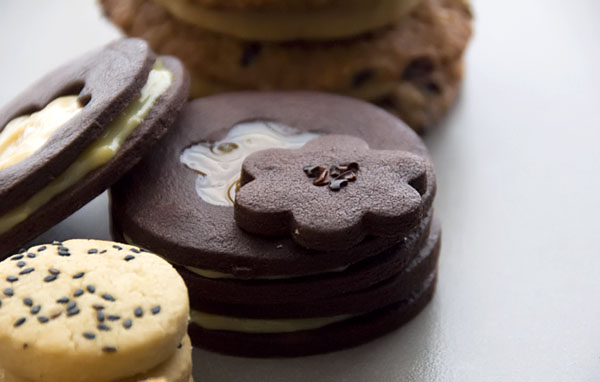 (Chocolate and Caramel Sandwich Cookies with Chestnut Jam)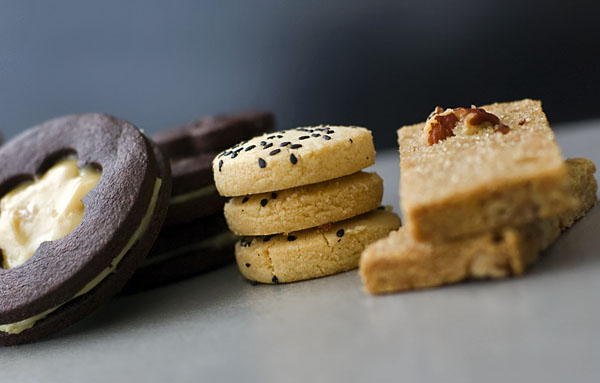 (Alice Medrich's Sesame Seed Coins)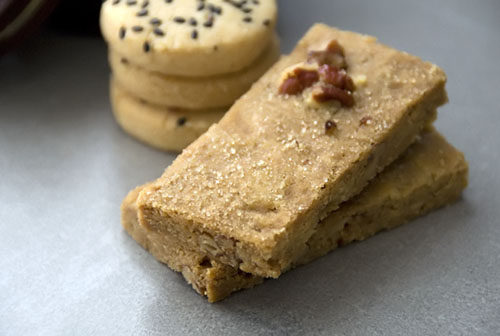 (Alice Medrich's Pecan Penuche Shortbread)
Pecan Penuche Shortbread with Rum :
(from Alice Medrich's wonderful book, Pure Dessert)
170g unsalted butter, melted and still warm
99g firmly packed grated piloncillo sugar or light muscovado sugar
1 tablespoon dark rum
1 teaspoon pure vanilla extract
3/8 teaspoon salt
191g plain flour
73g pecans, coarsely chopped
Turbinado, Demerara, or granulated sugar for sprinkling
Line the bottom and four sides of an 8-inch square baking pan with foil. In a medium bowl, combine the melted butter with the sugar, rum, vanilla and salt. Add the flour and half of the pecans and mix just until incorporated. Pat and spread the dough evenly in the pan. Let stand for at least 2 hours, or overnight (no need to refrigerate).
Position a rack in the lower third of the oven and preheat the oven to 148'C.
Sprinkle the remaining pecans over the top of the shortbread and press them gently into the dough. Bake for 45 minutes. Remove the pan from the oven, leaving the oven on. Sprinkle the surface of the shortbread with pinches of the turbinado sugar. Let the shortbread cool for 10 minutes.
Using the foil, remove the shortbread from the pan, being careful to avoid breaking it. Use a thin sharp knife to cut it into squares. Place the pieces slightly apart on a baking sheet lined with parchment and return to the oven for 15 minutes to toast it lightly. Cool on a rack.
Shortbread keeps for several weeks in an airtight container.