The February 2009 challenge is hosted by Wendy of WMPE's blog and Dharm of Dad ~ Baker & Chef. We have chosen a Chocolate Valentino cake by Chef Wan; a Vanilla Ice Cream recipe from Dharm and a Vanilla Ice Cream recipe from Wendy as the challenge.
But where's the cake, I hear you ask. It's there, I promise you! When I made this, it was nearing Valentines Day, and the truth is, B and I don't "celebrate" Valentines, so a heart shaped cake seemed a little pointless. True, I could have given it away to more romantically-inclined friends, but the other truth is that I wanted to eat this cake. Wanted to, as soon as it was pulled from the oven and had cooled sufficiently for an impatient knife to slip in and extract the meerest sliver for a taste test. At the union of cake and mouth, a roar of approval from gleeful tastebuds could be heard from far and wide. Thank you, Dharm and Wendy, I whispered into someone's ear. Pass it on!
After more rigorous taste-testing, I thought I would have a little fun with presenting this month's challenge. We've all seen cake ice-cream cones around before, but I've never tried making my own version of them.
If you're finding yourself that way inclined as well, here's what to do :
With the incredibly moist, chocolatey flesh of the baked Valentino cake, scoop mini cake balls with a melon baller or a small ice-cream scoop. If you're having a Martha moment, you can also pipe vanilla ice-cream into the cavity of the cone, before topping with the cake and dipping the whole in chocolate. Anoint with sprinkles, and share with someone you love.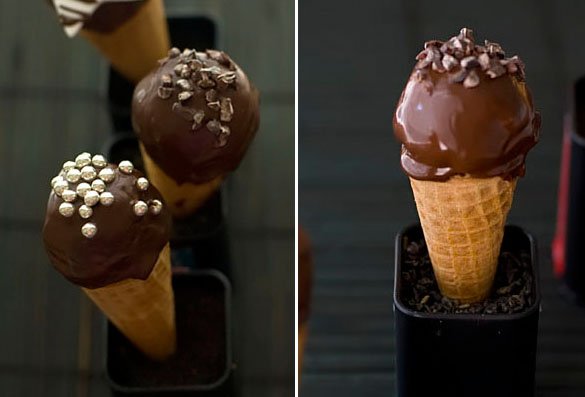 Chocolate Valentino Cake :
(from Sweet Treats by Chef Wan)
454 grams of semisweet chocolate, roughly chopped [I used chilli flavoured chocolate]
146 grams total of unsalted butter
5 large eggs separated
1. Put chocolate and butter in a heatproof bowl and set over a pan of simmering water (the bottom of the bowl should not touch the water) and melt, stirring often.
2. While your chocolate butter mixture is cooling. Butter your pan and line with a parchment circle then butter the parchment.
3. Separate the egg yolks from the egg whites and put into two medium/large bowls.
4. Whip the egg whites in a medium/large grease free bowl until stiff peaks are formed (do not over-whip or the cake will be dry).
5. With the same beater beat the egg yolks together.
6. Add the egg yolks to the cooled chocolate.
7. Fold in 1/3 of the egg whites into the chocolate mixture and follow with remaining 2/3rds. Fold until no white remains without deflating the batter.
8. Pour batter into prepared pan, the batter should fill the pan 3/4 of the way full, and bake at 190'C
9. Bake for 25 minutes until an instant read thermometer reads 60'C.
10. Cool cake on a rack for 10 minutes then unmold.
Tags: cake, chocolate, Daring Bakers, gluten free