Could this be the richest and most luxurious Daring Bakers challenge yet? If not, can we agree that it certainly comes close? It's the kind of chocolate dessert you might find listed with cliched words like "indulgence" or "oblivion" tacked to the end of it.
This month's challenge is brought to us by the adventurous Hilda from Saffron and Blueberry and Marion from Il en Faut Peu Pour Etre Heureux. They have chosen a French Yule Log by Flore from Florilege Gourmand.
If you're wondering, hang on, a yule log .. didn't we make one this time last year? Well, I thought the same too, but was put right when I read the definition of a French yule log.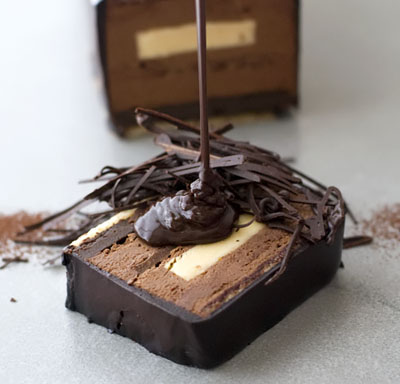 As it turns out, this yule log, or Buche de Noel, is somewhat akin to an ice-cream cake, or a frozen version of the typical buttercream-laden yule log we are more familiar with. Mine consists of flavours that pretty much adhere to the original recipe. The layers are almond dacquoise, dark chocolate mousse, vanilla creme brulee, hazelnut praline, dark chocolate ganache and icing. A great choice of dessert for this time of the year, I think, because of the warm weather here in Sydney.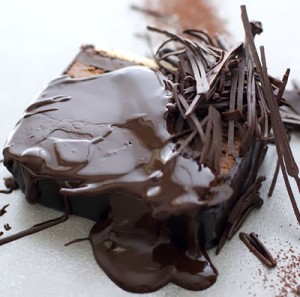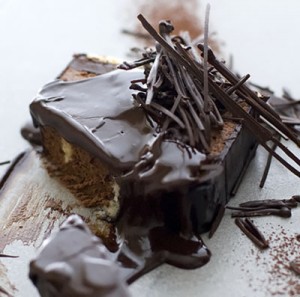 Not that warm weather would deter me from baking. After a few forkfuls of this wonderful dessert, I think 'Chocolate Ooh' might even be a nice addition to that list of cliched words. Or maybe 'Chocolate Blessing', because I'm thankful for having managed to find a little time this month to make this challenge. I'm grateful because the alternative would mean never having had the opportunity to experience this pure Chocolate Sensation. This Chocolate Bliss. This Chocolate Epiphany of textures, from ultra smooth mousse to crunchy praline and toothsome ganache. This Chocolate Happiness.
If you have been sufficiently tempted enough to make it, you might want to search for the recipe on the hosts' blogs (thanks, guys!), or from the blogs of other DB members.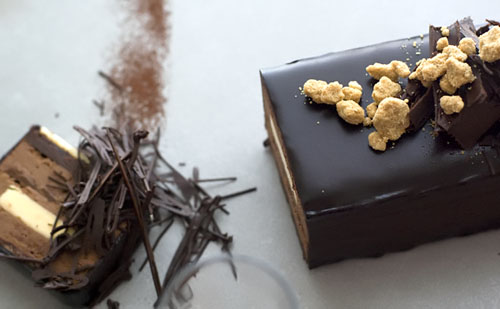 Tags: chocolate, custard, Daring Bakers, ganache, mousse, vanilla