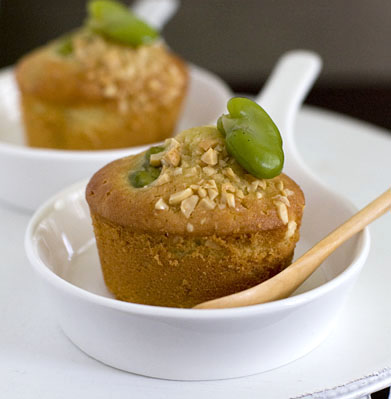 Wednesday lunch buddy (WLB) and I met at Black Star Pastry this week, for a change of scenery and some coffee and pastry treats (quiche for her, mini banana cake for me – delicious; loved the fresh banana bits). Talk meandered from babies who hug with their whole bodies, to men who haven't been hugging much lately, and eventually we turned to Audrey Hepburn. Now there's a woman who will forever remain timeless. WLB is going through an Audrey phase, watching DVD collections of her movies. Some classics are so good they bear revisiting.
That's what I thought, when I revisted a classic with a classic. I'm sure the hard gritty rock of Guns and Roses was never intended to be sung along to, by a short, pink clad, Asian girl, while she's creaming butter for pound cake. But there I was, with apologies to our neighbour, knock knock knockin' on heaven's dooooooooah!
Pound cake is one of those sturdy, buttery cakes I freely admit to craving every now and then. Good pound cake freely kisses sugar, eggs and flour and is unabashedly a butter-burst of moistness. Your teeth thank you, when you sink them into a slice.
So here I'm offering two very different riffs on the classic pound cake. Currently in Sydney we are straddling two seasons (the hot vs the cold), and it seems quite appropriate to be celebrating the glory of Spring with fava bean (or broad bean) pound cake, whilst still giving a nod to an Autumn and Winter's past, with a damp chestnut and walnut pound cake.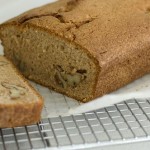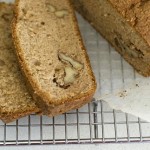 The chestnut pound cake comes from Alice Medrich's book, Pure Dessert. She recommends having a slice of this cake with a glass of sherry (and I couldn't agree more!). I'm not including the recipe because by now, I think everyone should already own a copy of that fabulous book!
Fava Bean Pound Cakes :
(enough for six friand-sized cakes; from The Dessert Book, by Hidemi Sugino)
For the batter :
100g unsalted butter, thinly sliced, plus additional for greasing pans
150g icing sugar
180g whole eggs
70g plain flour
1.5g (1/3 tsp) baking powder
100g almond meal
60g poached fava bean puree (see below)
For the garnish :
Poached fava beans, for top and garnish
Diced almonds, for top
For the syrup :
60g fava bean poaching syrup
60g kirsch
Combine syrup ingredients; set aside. Butter baking pans.
Sift together flour, baking powder and almond meal.
In the bowl of a food processor, combine butter and sugar; process for 4 to 5 seconds. Gradually add eggs, and flour mixture, processing for 4 to 5 seconds, after each addition. Transfer to a bowl and fold in bean puree.
Pour this batter into a pastry bag without a tip and pipe evenly into buttered pans. Lightly tap pans in order to release the trapped air from the batter. Sprinkle each with almonds and 2 fava beans on top. Bake in a 170'C oven until a cake tester inserted into the centers comes out clean, about 20 minutes.
Remove from pans, transfer to a wire rack, and brush syrup while warm. Garnish with poached fava beans if desired.
Poached Fava Beans :
60g granulated sugar
2/3 vanilla bean, split
150g water
150g peeled frozen fava beans
Heat sugar, vanilla and water together over high heat until sugar dissolves. Add fava beans, bring to a simmer, and cook for 1 minutes; let cool to room temperature. Transfer into an airtight container, and refrigerate overnight. To puree beans, process in a food processor or mash.
Note: If you use fresh fava beans, cook them in salted boiling water, immediately shock into cold water and peel before poaching.
Tags: cake