Another birthday.
(Not mine! I'm not ageing that quickly. I hope.)
This one celebrates another year with a salted caramel chocolate cake. Based on Pierre Herme's Faubourg Pave, with extra caramel shards flecked with cocoa nibs and vanilla salt, and truffles.
(Because life should get sweeter and richer, as you get older. 🙂 )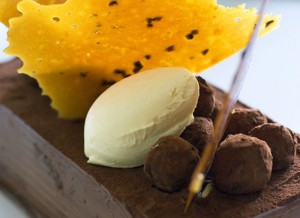 Cocoa Cake :
(enough for two Faubourg Paves; recipe for ganache here; from Chocolate Desserts by Pierre Herme)
1/3 cup plus 1 tablespoon (40g) Dutch-processed cocoa powder
1/4 cup (35g) cake flour
3 1/2 tablespoons potato starch
5 1/2 tablespoons (75g) unsalted butter
9 large egg yolks, at room temperature
1 1/4 cups (150g) sugar
5 large egg whites, at room temperature
Center a rack in the oven and preheat the oven to 180'C. Butter two 18 x 9cm loaf pans,m then line the pans with baking paper.
Sift together the cocoa powder, cake flour, and potato starch and keep close at hand. Melt the butter and set it aside to cool until it is barely warm to the touch.
Working in a mixer fitted with the whisk attachment, beat the egg yolks and 1/2 cup plus 2 tablespoons (75g) of the sugar on medium-high speed, scraping down the sides of the bowl as needed, until the mixture is thick and pale, about 5 minutes. If you do not have a second mixer bowl, scrape the thickened egg yolks into a large bowl and wash and dry your mixer bowl; wash and dry the whisk attachment in any case.
Fit the mixer with the clean, dry bowl and whisk and whip the egg whites at medium speed just until they form soft peaks. Gradually add the remaining sugar and beat until the peaks are firm and shiny.
Working with a large rubber spatula and a light hand, fold the sifted dry ingredients and one-quarter of the beaten whites into the yolk mixture. Stir a few tablespoons of this mixture into the cooled melted butter, stirring to incorporate the butter as much as possible, then add the butter and the remaining whites to the yolk. Working quickly and gently, fold everything together.
Pour the batter into the prepared pans – it should come three-quarters of the way up the sides – then slide the pans into the oven. Bake for 25 to 30 minutes. A slender knife inserted into the center of the cake should come out clean.
To cool the loaves, allow them to rest for 3 minutes in their pans, then gently unmold them onto cooling racks, delicately lift off the baking paper, and turn the cakes right side up to cool at room temperature.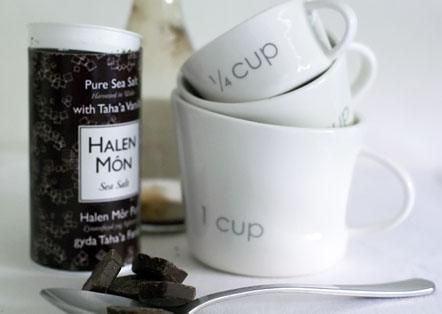 (Welsh vanilla salt, pure vanilla extract, Lindt chocolate buttons)
Tags: cake, caramel, chocolate, Pierre Herme