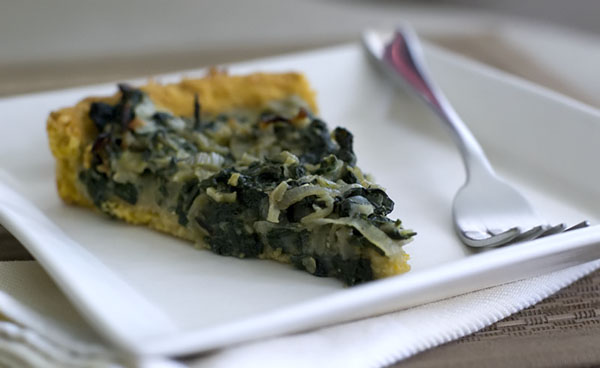 I have been threatening to make this tart by Helen for months now, ever since she first posted about it. It was the novel (to me) idea of having a healthy carrot and oat crust, that attracted me to the recipe. Also, with a filling of silverbeet (she used rainbow chard in the original), eggs and a restrained hand with the parmesan grater.. how could you go wrong with that combination?
When I finally made it for our dinner the other day, my only regret was that it had taken me so long to bake this fantastic tart. The crust despite being sufficiently healthy, was very tart-like, so you weren't left feeling as though something had been compromised in terms of not having the usual shortcrust pastry. I believe, no buttery-tart-lover having tasted this, would have felt in the least bit duped.
The filling was bound by egg, but only just so (especially since the eggs I used were smaller), without it tasting like a frittata or a quiche, which B definitely isn't a huge fan of. In fact, the end result was so delicious and made me feel so virtuous that I even went for seconds. (Thank you for the recipe, Helen! Next on my list is that award-winning chilli of yours 😀 )
Of course, after virtuosity, comes cake.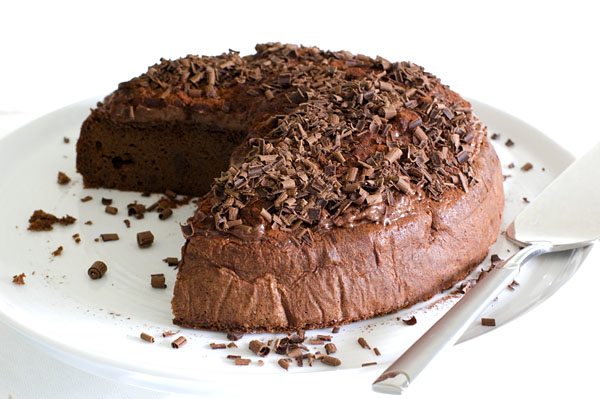 I have made a version of Eve's chocolate cake many times before, but this time was sorely tested by the lack of proper equipment in my kitchen at home. Despite this, the rapid disappearance of the cake once it was assembled, is evidence enough of it's success (or our greed).
What I love about this cake, apart from it being a completely flourless and nut-free chocolate cake, with minimal amounts of butter and added sugar, is the genius of having a cake topping made from the reserved unbaked cake mixture. That's two-for-the-price-of-one, as far as any cake-making effort is concerned! If I hadn't known that this cake was named after Damien Pignolet's friend Eve Knottenbelt, I would've concluded that this cake was so called, because of it's simple beauty, it's grace and purity in flavour.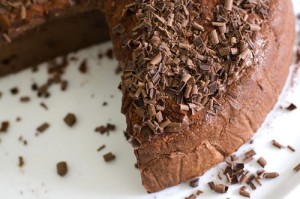 Eve's Chocolate Cake :
(from French by Damien Pignolet)
360g bittersweet chocolate, chopped into small pieces
50g soft unsalted butter
12 x 65g eggs, separated
30g caster sugar
20g caster sugar
a little grated bittersweet chocolate and cocoa, to decorate
Grease a 26-28cm springform cake tin and line the base and sides with baking paper. Preheat the oven to 150'C.
Melt the chocolate in a bowl over a bain-marie of hot (not boiling) water then work in the soft butter.
Beat the egg yolks with the 30g of sugar until pale. Combine them with the melted chocolate and butter.
Beat the egg whites until stiff but not dry (preferably in a copper bowl with a wire whisk), and then beat in the 20g of sugar until stiff.
Beat 1/4 of the egg-white mixture into the chocolate and then fold this gently but thoroughly back into the remaining egg-white mixture.
Transfer 1/4 of the cake mixture into a bowl and refrigerate. Pour the balance of the mixture into the prepared tin and bake for 30-40 minutes. It should remain slightly moist in the centre; to test, press the centre with your finger after 30 minutes – it should hold the indentation.
Remove from the oven and turn out directly onto a serving platter. Remove the springform ring and base. Leave to cool completely. The cake will collapse to leave a crater in the centre. Fill the crater with the reserved mixture and scatter with the chocolate. Dust lightly with cocoa and serve with whipped cream.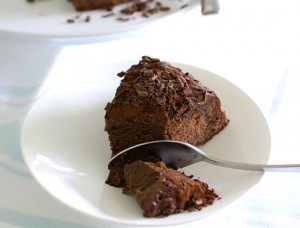 [Note : Eve's chocolate cake is my submission to Lorraine's Chocolate Cake challenge. I'm afraid I don't have a "best ever" chocolate cake recipe, as my ultimate cake varies from day to day, but this one is definitely up there. 🙂 ]