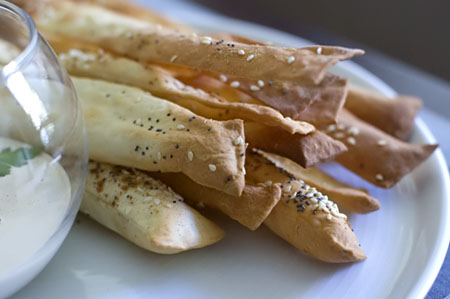 For this month's DB Challenge, and as a first ever for the DB group, Natalie and Shellyfish challenged us to make lavash crackers and an accompanying dip, whilst keeping within the perimeters of being gluten-free (optional) and vegan.
Lavash crackers are relatively easy to make and have fairly wide appeal so I was thrilled that the hosts had opted for this. What worried me was my choice of accompaniment. While I have dabbled with being vegetarian and pescatarian in the past, I've never ever considered going vegan and therefore wasn't too familiar with it. In fact, my favourite thing to have with lavash crackers is a decent piece of cheese, be it a gloriously creamy triple cream cheese like St. Andre, or even a fabulous Australian-made goats cheese.
Dip. Chip 'n' Dip. A friend said he attended a party recently and spied a hollowed out round loaf of bread, filled with dip with the bready innards served on the side as agents for the dip! Somehow, that reminded me so much of the seventies and eighties. Growing up, we were never really "dip" people (aside from our brown and orange lounge furniture, and pastel green walls, a few trends did manage to bypass my mother during those decades). Mom made a mean ricotta cheese dip at one stage but we all got tired of it pretty quickly and it hasn't been seen or heard from since.
So I was stumped for ideas (aside from guacamole and tomato salsa) until I came across a recipe for a tahini sauce in the latest issue of Vogue EAT. The sauce was intended as an accompaniment to a dish of tameya, or falafel, but I had tasted a similar sauce before and figured it would also work well as a dip. In keeping with this Middle Eastern-ish theme, I used sesame seeds, poppyseeds and a sprinkling of ras el hanout on my crackers. The crackers tasted lovely and were fun to watch, puffing up in the oven.
Below, I have provided the recipe for the non gluten-free version of the lavash cracker. If you are after the gluten-free one, or are just interested in ideas for vegan dips and spreads, you should check out the other DB blogs.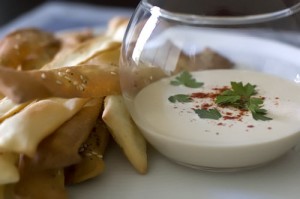 Lavash Crackers :
(the non-gluten-free version; recipe reference: The Bread Baker's Apprentice: Mastering The Art of Extraordinary Bread, by Peter Reinhart.)
* 1 1/2 cups unbleached bread flour
* 1/2 tsp salt
* 1/2 tsp instant yeast
* 1 Tb agave syrup or sugar
* 1 Tb vegetable oil
* 1/3 to 1/2 cup + 2 Tb water, at room temperature
* Poppy seeds, sesame seeds, paprika, cumin seeds, caraway seeds, or kosher salt for toppings
1. In a mixing bowl, stir together the flour, salt, yeast, agave, oil, and just enough water to bring everything together into a ball.
2. Sprinkle some flour on the counter and transfer the dough to the counter. Knead for about 10 minutes, or until the ingredients are evenly distributed. The dough should pass the windowpane test and register 25-27'C. The dough should be satiny to the touch, not tacky, and supple enough to stretch when pulled. Lightly oil a bowl and transfer the dough to the bowl, rolling it around to coat it with oil. Cover the bowl with plastic wrap.
3. Ferment at room temperature for 90 minutes, or until the dough doubles in size.
4. Mist the counter lightly with spray oil and transfer the dough to the counter. Press the dough into a square with your hand and dust the top of the dough lightly with flour. Roll it out with a rolling pin into a paper thin sheet about 15 inches by 12 inches. You may have to stop from time to time so that the gluten can relax. Cover it with a towel or plastic wrap while it relaxes. When it is the desired thinness, let the dough relax for 5 minutes. Line a sheet pan with baking parchment. Carefully lift the sheet of dough and lay it on the parchment. If it overlaps the edge of the pan, snip off the excess with scissors.
5. Preheat the oven to 176'C with the oven rack on the middle shelf. Mist the top of the dough with water and sprinkle a covering of seeds or spices on the dough. If you want to precut the cracker, use a pizza cutter (rolling blade) and cut diamonds or rectangles in the dough. You do not need to separate the pieces, as they will snap apart after baking. If you want to make shards, bake the sheet of dough without cutting it first.
5. Bake for 15 to 20 minutes, or until the crackers begin to brown evenly across the top (the time will depend on how thinly and evenly you rolled the dough).
6. When the crackers are baked, remove the pan from the oven and let them cool in the pan for about 10 minutes. You can then snap them apart or snap off shards and serve.
Tahini sauce :
(Salatet tahina; served as dip; from Vogue EAT Oct/Nov 2008)
1 clove garlic, crushed
150g tahini paste
2 teaspoons white wine vinegar
juice of 1 lemon
1/4 teaspoon ground cumin
1/4 cup chopped flat-leaf parsley
paprika, to serve
Combine garlic, tahini and vinegar in a bowl, then whisk in lemon juice and 125ml (1/2 cup) cold water to form a creamy sauce. Stir in cumin and parsley. Season. Spoon into a bowl and sprinkle with paprika.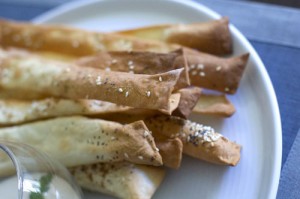 Tags: Daring Bakers, savoury, tahini