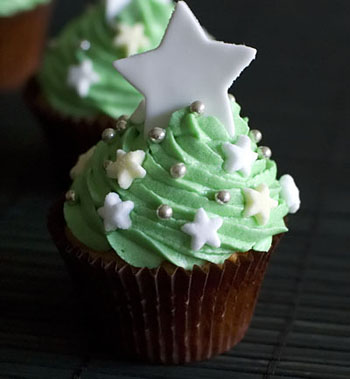 Trying to submit this entry to Fanny's SHF event, before the deadline, was like running desperately towards the closing doors of a train. Just made it, phew! I know it's months away til Christmas, but seeing as Christmas for us falls in the Summer, it never seems to make sense to be eating heavy, traditional Christmas fare in the middle of a heatwave.
I have been meaning to make Christmas themed cupcakes for ages now; ever since the cold June winds prompted the outpouring of scarves and jumpers from the depths of my wardrobe. Like most things however, there never seemed to be enough time in any given week to get started on it, and now I feel I've almost missed the train on celebrating Christmas while it is still fairly cool. I even have a huge jar of homemade fruit mince sitting in my fridge, waiting to be turned into my favourite Christmas treat, mince tarts (and fruit mince cupcakes)!
The mince cupcakes have yet to be made, but I finally managed to make the ones pictured above, that are meant to resemble Christmas trees. Why cupcakes, you might ask. Well, to me, they are "neat, sweet, petite". Just like the Addams family. And like the Addams family, not everyone likes them, but those who do, absolutely love them!
For the base, I used this recipe. Throw in some heart-warming spices and a thatch of green tinted ultra-smooth buttercream, and what you've got is Christmas, any time of the year 🙂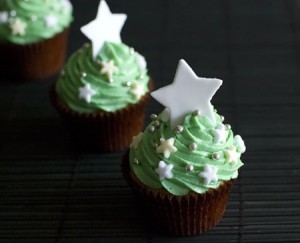 Tags: cupcakes