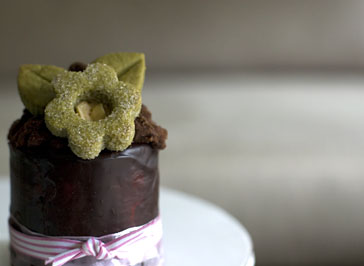 I know.
I know!
You've come here in search of a Filbert Gateau and now you're looking at the picture above, wondering what the heck I'm on. Where's the buttercream? What about the flippin' filberts?
That, I promise you, is the gateau by Carol Walters that Chris picked as this month's challenge. Plunge a spoon into it, drag it back up for air and what you'll get is layers of moist almond genoise between blankets of rich praline buttercream and whipped cream. A filbert gateau, even by any other name, is still…
It all started when I made the initial decision to do mini versions of this gateau, and then had a heck of a time using the chocolate glaze. The finish on the cakes I achieved was rather displeasing to say the least and while trying to figure out how to decorate the cakes, I was suddenly struck by the idea of having them vaguely resemble flower pots (I really should stop listening to myself!). I started making some green tea flowers and leaves, as well as bits of chocolate biscuit to look like soil. At this point I realised that part of the baking challenge required buttercream to adorn the top of the cake, so I had to make more buttercream and piped it underneath each flower and leaf. In the end the whole exercise was all kind of exhausting, really, but thankfully I now have cake to replenish my energy.
The whole concept of a layer cake is genius. The cake itself is almost nothing more than a vehicle for the copious amounts of flavoured buttercream and glaze involved. I've never been too much of a buttercream fan, but I love making cakes for others, so was only too happy to attempt this recipe in the name of the Daring Bakers. The recipe for this cake is rather lengthy, so I have decided not to include it. However, you should be able to find it on Chris' blog. The recipe for green tea biscuits can be found here.
This post is dedicated to the memory of Sher, a fellow blogger and Daring Baker member, who passed away on July 20th 2008.