You know when you get a weird urge some times; something in your head that you can't shake, and it's not because you ate some dodgy takeaway? It's been in my mind all week, to make green tea brioche. I even knew what I wanted to do with it, once it was baked. Cut them into stars, skewer them and serve them alongside a hot beverage. Tea is my usual default option, but this time I thought I would attempt to overcome my prejudice against hot chocolate, to try Michel Bras' recipe. There was also Michael Recchiuti's recipe for white hot chocolate to consider, but I think that would be like stepping too far into the deep end without arm-floaties, for me.
So, dark hot chocolate it is. The recipe below serves two kids, or 1 adult who might claim to not like hot chocolate, until they taste this and beg for more, so make sure you prepare a little extra for such eventualities.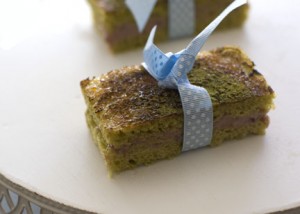 Other great things you can do this brioche (apart from eating it as is), is make caramelised green tea brioche and blackberry custard sandwiches (as pictured), a brioche and red bean bread 'n' butter pudding, or even green tea brioche ice-cream. Or, you could just eat it as it is. Really!
Hot Chocolate :
(Un chocolat chaud pour petit e pour grand; from The Notebooks of Michel Bras, by Michel Bras)
150g to 200g whole milk
60g butter
50g bittersweet chocolate
5g pralin (optional)
small pinch of salt
10g sugar
Combine all the ingredients and boil. Cook over low heat for 5 minutes. Mix [with an electric blender]. Serve piping hot. Drink and have another.
If you are a "grown-up", you can strengthen the flavour by adding a teaspoon of cocoa powder.