We made some cookies at work the other day that were so insanely delicious, I had to repeat the recipe at home too, for us to have with tea. They come from Michel Bras' fabulous dessert book, from which I also rediscovered my love for Le Pain aux Epices.
I love recipes that have the ability to surprise. When I saw the word tuiles (which means tiles, in French), I thought, here's yet another recipe for those ubiquitous wafers you see so often as garnishes on desserts. Not that they aren't tasty, but I didn't think I would gain anything from trying this recipe out. How wrong I was! These are lovely when made into thin, delicate shapes, but I also like them thicker like roofing tiles, spicy, and with a bit of a laissez-faire look to them.
They remind me of the plate-sized almond tuiles we saw being sold in various Parisian bakeries when B and I were there on holiday. Those were beautiful curved golden discs, flecked with sliced almonds, and stacked one on top of the other. I would have bought one for sure, if I hadn't been so distracted by the cakes, croissants and baguettes that we consumed so much of.
Michel Bras recommends having some of these cookies on hand, ".. to console a child with a boo-boo, a stressed adult, [or] to offer as an expected treat to guests." It is also good to note that the cocoa version is gluten/flour free. These sugary treats certainly appealled unexpectedly to this sometimes-stressed adult with the occasional boo-boo!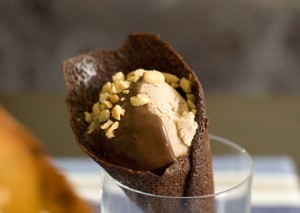 If that alone is not enough to convince you, I have also been indulging in some lily-gilding, by turning them into waffle-esque ice-cream cones! These were filled with hazelnut ice-cream, chocolate sauce spiked with coffee liqueur and chopped peanuts. My version of the chocolate Cornetto. 🙂
Tuile Cookies :
(from The Notebooks of Michel Bras by Michel Bras)
Cocoa Tuiles
200g sugar
30g cocoa powder
100g melted butter
75g egg whites
Combine the sugar, cocoa powder, and melted butter. Blend thoroughly. Add the egg whites. Allow to rest for 1 hour. Stir gently before using.
Line a baking sheet with buttered parchment. Make 8cm rounds with a pastry brush or with your index and middle fingers. Bake in a preheated 180'C oven until golden. If you overbake them, they will be too brittle to shape; if underbaked, they'll be too soft. If you do not shape them immediately, you can reheat them in the oven later. When you remove them from the oven, shape them around a bottle or a rolling pin. You can also roll them into a cigarette shape by wrapping them around the handle of a spatula or wooden spoon.
Store in a tightly sealed container with a silica-gel packet.
Honey and Anise Tuiles
75g honey
75g icing sugar
60g melted butter
100g egg whites
70g sifted flour
anise seed
Combine the honey, icing sugar, melted butter, and egg whites. Blend thoroughly and add the flour. Allow to rest for 1 hour. Stir gently before using. When you form the tuiles, dust them with a few anise seeds. (Baking method as above)