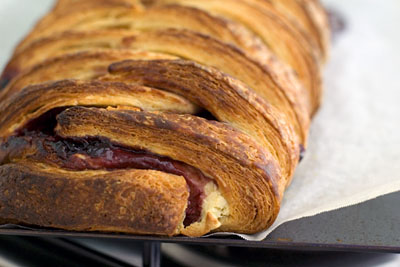 It's aliiiiiive!
Did I ever tell you that I've always wanted to be an extra in a b-grade film? I think I would have made a kick-ass shopping mall zombie or a skeleton warrior that gets felled by Bruce Campbell in Army of Darkness. Need a scream on cue? All I have to do is shut my eyes and recall the time I dropped a bag of icing sugar that went pfloopf down my jeans and all over the kitchen floor. Shriek.
Meanwhile, I can only dream while in my kitchen, hunched over the oven and peering through the glass, going, "Master! Master! The danish.. it's aliiiiive!"
Baking with yeast has that kind of effect on me. I still get a childish glee from seeing magic happen in the oven. So it was with great joy that I discovered this month's Daring Bakers Challenge, as chosen by Kelly and Ben was going to be a danish braid.
I have to confess, I've made this particular danish recipe before. It was more than a year ago, when I needed to make some danishes and was testing out a few recipes I had at hand. While the end result was delicious, it wasn't what I was looking for in a danish. Still, there were several aspects about the danish that I really liked, and I ended up incorporating elements of it into my final recipe.
Danishes are one of those breakfast or tea time foods that I don't indulge in often. For something sweet to start the day, I'd much rather have brioche, or a little muffin. That said, I love making danishes. Danish dough usually has that pleasant plumpness and smoothness that makes it a joy to work with (this particular recipe however, I found quite tough to roll out), and I love watching the pastry expand and brown in the oven. If you have the time, a home-made danish is one thing that is well worth the trouble – even if they might not turn out looking as professional as something you'd find at the shops, they always seem to taste infinitely better than anything you could buy.
Danish dough :
(the measurements in brackets are my own conversions)
For the dough (detrempe):
28g fresh yeast or 1 tablespoon active dry yeast
1/2 cup (140g) whole milk
1/3 cup (85g) sugar
zest of 1 orange, finely grated
3/4 teaspoon ground cardamom
1 1/2 teaspoons vanilla extract
1/2 vanilla bean, split and scraped
2 large eggs, chilled
1/4 cup (80g) fresh orange juice
3 1/4 cup (560g) plain flour
1 teaspoon salt
For the butter block:
226g cold unsalted butter
1/4 cup (45g) plain flour
Dough (detrempe):
Combine yeast and milk in the bowl of a mixer fitted with the paddle attachment and mix on low speed. Slowly add sugar, orange zest, cardamom, vanilla extract, vanilla seeds, eggs, and orange juice. Mix well. Change to the dough hook and add the salt with the flour, 1 cup at a time, increasing speed to medium as the flour is incorporated. Knead the dough for about 5 minutes, or until smooth. You may need to add a little more flour if it is sticky. Transfer dough to a lightly floured baking sheet and cover with plastic wrap. Refrigerate for 30 minutes.
Butter Block:
Combine butter and flour in the bowl of a mixer fitted with a paddle attachment and beat on medium speed for 1 minute. Scrape down the sides of the bowl and the paddle and then beat for 1 minute more, or until smooth and lump free. Set aside at room temperature.
After the detrempe has chilled 30 minutes, turn it out onto a lightly floured surface. Roll the dough into a rectangle approximately 18 x 13 inches and ¼ inch thick. The dough may be sticky, so keep dusting it lightly with flour. Spread the butter evenly over the center and right thirds of the dough. Fold the left edge of the detrempe to the right, covering half of the butter. Fold the right third of the rectangle over the center third. The first turn has now been completed. Mark the dough by poking it with your finger to keep track of your turns, or use a sticky and keep a tally. Place the dough on a baking sheet, wrap it in plastic wrap, and refrigerate for 30 minutes.
Place the dough lengthwise on a floured work surface. The open ends should be to your right and left. Roll the dough into another approximately 13 x 18 inch, ¼-inch-thick rectangle. Again, fold the left third of the rectangle over the center third and the right third over the center third. No additional butter will be added as it is already in the dough. The second turn has now been completed. Refrigerate the dough for 30 minutes.
Roll out, turn, and refrigerate the dough two more times, for a total of four single turns. Make sure you are keeping track of your turns. Refrigerate the dough after the final turn for at least 5 hours or overnight. The danish dough is now ready to be used. If you will not be using the dough within 24 hours, freeze it. To do this, roll the dough out to about 1 inch in thickness, wrap tightly in plastic wrap, and freeze. Defrost the dough slowly in the refrigerator for easiest handling. Danish dough will keep in the freezer for up to 1 month.