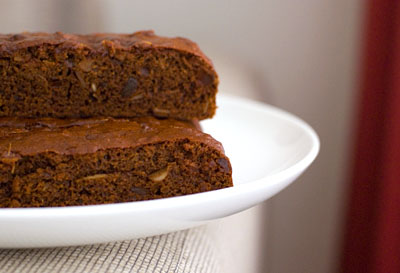 We have a ridiculous amount of ginger related products in our kitchen at the moment. Every time I opened the pantry cupboard, I can't help but laugh at the sight of packets of gingersnaps, chewy ginger biscuits, ginger tablets, candied ginger, crystallised ginger and ground ginger.
Most of it was purchased recently by B who had bought himself a Playstation 3 for his birthday and then discovered that one of the games caused him to suffer from motion sickness. I used to feel nauseous as well when playing Doom and Heretic. Gosh, remember those classic games? I had a conversation with someone about games a couple of months ago, and was surprised that he didn't know what Doom was. Ah heck, now I'm really showing my age, aren't I!
Anyway, B read that eating ginger is apparently a natural way of reducing nausea, and subsequently went out and bought what seems to be every conceivable ginger product available – excepting ginger beer, which he categorically doesn't like. Funnily enough, he has barely touched any of his purchases, which means the task has been left to me to expand my waistline by plowing through the biscuits and candied ginger (which I absolutely love).
Which is why I've also been inspired to contribute to our ginger tally with this spice cake by Michel Bras. His recipe (below) doesn't contain any ginger, but in the spirit of things, I altered it slightly to include candied ginger as well as ground ginger.
As soon as this cake came out of the oven, I made myself a cup of tea and sampled a slice. It was wonderfully spicy and not very sweet. Michel Bras calls it a "quiet pleasure, a relaxation, a special moment, with a taste of spices that carry you away to a sunny land". A heart-warming and very apt description indeed!
Ginger and Le Pain aux Epices is my contribution to this week's WHB, hosted by Joanna of Joanna's Food.
Le Pain aux Epices :
(from The Notebooks of Michel Bras, by Michel Bras)
100g honey
100g sugar
75g butter
1/2 cup plus 2 tablespoons water
30g candied orange peels
4 orange zests
4 lemon zests
110g rye flour
110g flour
20g baking soda
1 teaspoon (3g) anise seed
18g cinnamon
9g nutmeg
2g cloves
45g slivered almonds
Grind the cinnamon, nutmeg and cloves
In a saucepan, combine the honey, sugar, butter and water. Melt over low heat. Let cool and set aside.
Mince the candied orange peels and the zests. Then, mix with a little flour.
In a bowl, mix flour, baking soda, powdered spices, and anise seed. Add the minced peels and zest. Gradually add the honey mixture. Beat for 10 minutes. Add the almonds.
Butter a 22cm aluminium pan and dust with flour. Fill it with batter, cover with a baking sheet, and bake for 10 minutes in preheated 160'C oven. Remove the baking sheet and continue to bake 45 to 60 minutes at 150'C. During baking, when the cake begins to form a crust, make a 1cm lengthwise cut to help the cake develop more fully. Insert a skewer to check that the cake is done.
As soon as it comes out of the oven take it out of the pan and let cool on a rack. At this point, the cake will freeze well.