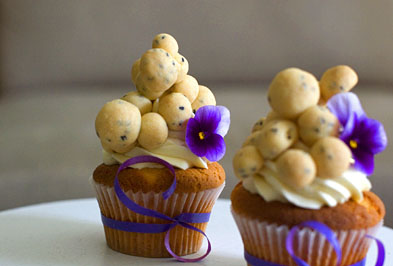 This morning I woke up and threw open the balcony door. The sky was clear and the day smelled so crisp and sweet. A sweetness you get just before the belching buses, the bronchial leaf blowers and other excesses of modern life choke the very air from underneath your nose.
Over grain bread, slices of Morbier, and Marilynne Robinson's Gilead, I thought about the life I lead and the strange serenity you sometimes feel even in the midst of so much chaos and noise. I thought about the funny things we do to ourselves, and each other. About the darkness that the fragile notion of society and civilisation supresses within us.
I thought about all that, and decided that, today, I wanted to make something and someone happy.
These lemon pebble cupcakes are for a very close friend who recently celebrated her 30th birthday. She had a big bash up in the mountains, but I didn't go because I was working. (I'm a pretty bad friend, aren't I?). I've never been too sure about the whole notion of best friends (or even soul mates, for that matter) – to use the term makes me feel like I'm back in primary school again, so I never use it. But Mel is one of my favourite friends, so I wanted to make her something a little special. The cupcakes and frosting are made with Lindt white chocolate, which she loves.
Due to their chocolate content, I will be winging the remaining cakes to Stephanie for her chocolate themed blog party. At the moment, I can't tell you what beverage to have with these cakes, I'm afraid, because I'm including a surprise something in Mel's gift bag, to have with her cakes. 🙂