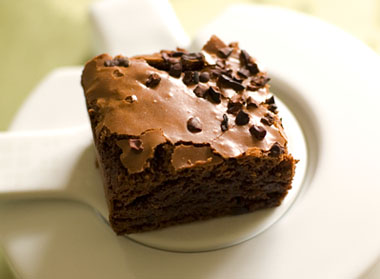 Never gonna give you up
Never gonna let you down
Never gonna run around and desert you
Never gonna make you cry
Never gonna say goodbye
Never gonna tell a lie and hurt you
— Never Gonna Give You Up, Rick Astley.
Damn brownies!
Every time I think I'm over brownies (too rich, too chocolate, too over the top..) I suddenly discover new reasons to love them again. If it's not the depressing weather (rain and more rain) or an exhausting new job that makes you feel like you need a pick-me-up, the brownie is always there, waiting to lift you up like a schmaltzy Rick Astley song.
Then, every time I think I've finally found my ultimate brownie recipe, I stumble across one that is amazing enough to warrant a little bit of trumpeting to the world at large.
This one by Alice Medrich, is my Rick Astley brownie. It also happens to feature a little extra something I have been using a lot of lately : cacao (or cocoa) nibs. These nibs are actually the beans from the cacao plant which have been roasted and lightly crushed. They have a beautiful bittersweet flavour and a texture reminiscent of coffee beans, and are fabulous added to biscuits and brownies especially due to the crunch factor. The nibs can also be used to infuse a milk for a pannacotta, or a custard to make ice-cream. In fact, you could sprinkle them onto almost anything, for a bit of a sugar-free cocoa hit.
As for the brownies? Well, they are definitely on my list of greatest hits because they are meltingly moist inside, with a crisp shell on top that stayed crisp even a few days after the brownie was baked.
Cacao nibs and bittersweet brownies are my contribution to this week's WHB, hosted by Maninas of Food Matters.
Nibby Bittersweet Brownies :
(from Pure Dessert, by Alice Medrich)
226g 70% bittersweet chocolate, coarsely chopped
90g unsalted butter, cut into several pieces
3 large eggs
225g sugar
scant 1/4 teaspoon salt
1 teaspoon pure vanilla extract
34g plain flour
3 tablespoons cacao nibs
Position a rack in the lower third of the oven and preheat the oven to 176'C. Line the bottom and sides of an 8-inch square baking pan with baking paper. [I usually line with excess paper rising at least 2cm above the top of the pan. This will help you ease and lift the cooked brownie out of the pan]
Place the chocolate and butter in a heatproof bowl and set in a wide skillet of almost-simmering water. Stir frequently until the mixture is melted and smooth and quite warm. Remove from the pan and set aside.
In a medium bowl, beat the eggs, sugar, salt and vanilla with a hand-held mixer on high speed until the eggs are thick and light coloured, about 2 minutes. Whisk in the warm chocolate. Fold in the flour. Stir in two tablespoons of the cacao nibs.
Scrape the batter into the lined pan and spread evenly. Sprinkle the remaining tablespoon of cacao nibs over the batter. Bake until a toothpick inserted in the center comes out clean, 25 to 30 minutes. Cool in the pan on a rack.
Invert the brownies on a rack and peel off the paper. Turn right side up on a cutting board and cut into sixteen 2-inch squares. [Gripping the excess paper, I lifted the brownie out of the tin, rather than invert it, because I didn't want to ruin any of the beautiful crust that had formed on top of the brownie]