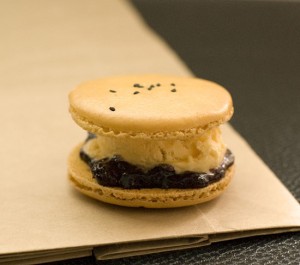 I bought a big bag of lemons the other day, because I love a bargain, and lemons are always useful in the sweet or savoury kitchen. Not long after making a batch of yellow macarons, I came across Kalyn's post about a special fundraiser, and decided that I had to particpate immediately.
This lemon macaron, filled with lemon iced mousse is dedicated to a special edition of Click! for this month. For June 2008, Click Yellow for Bri is aimed at raising funds to help Brianna's battle against cancer. You can read more about the fundraiser here, and make a contribution as well, if you're able to.
Lemon Iced Mousse :
(from Essence by David Everitt-Matthias)
juice of 6 lemons
grated zest of 3 lemons
200ml double cream
100g caster sugar
30ml water
4-5 egg yolks (approximately 120g)
Put the lemon juice and zest in a smal lpan and boil until reduced to 75ml. Remove from the heat and set aside. Whip the double cream until it forms soft peaks and then set aside in the fridge.
Place the caster sugar and water in a small saucepan and heat gently, stirring, until the sugar has dissolved. Bring to the boil and boil until it reaches the soft-ball stage (115'C on a sugar thermometer). While it is boiling, whisk the egg yolks in a freestanding electric mixer until thick, airy and very pale. When the sugar syrup is ready, slowly drizzle it on to the egg yolks with the machine running on high. Continue to whisk until cold.
Fold in the lemon juice, then the whipped cream. Freeze the mixture until set; this will take at least 6 hours.