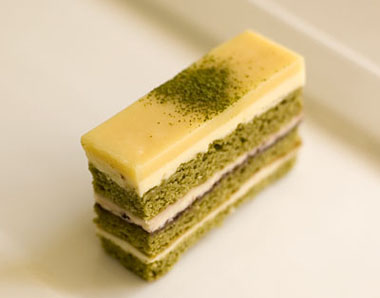 It was only after I caught myself licking a slick of lemony buttercream off the wooden spoon that I paused to ponder the sanity behind my decision to sign up as a Daring Baker. Party cake, cheesecake pops and now L'Opera. I mean, what was I thinking?! This can only end one way, and that way is, fatly.
Ah well. Through the miracle of friendly fabrics and prudent shopping, the clothes still fit, and afterall, life is meant to be lived, right? Everything in moderation, I say. So here's a modest tease of a slice of Opera cake, flavoured with green tea (maccha), lemon and blackberry.
I don't often find myself eating this kind of cake, but love it for it's angular beauty and it's unashamed use of bold flavours, rich buttercream and ganache. This was my first time making an Opera cake that wasn't dark chocolate and coffee flavoured. The experience was almost.. liberating. To be able to pick from such a wide spectrum of flavours might seem daunting, but I always knew it was going to have green tea as it's base flavour. Everything else, just seemed to fall into place. 🙂
This month's DB challenge is dedicated to honorary Daring Baker member, Barbara of Winos and Foodies. To create your own version of L'Opera, you might want to check out the hosts' and co-hosts' pages for the recipe. Thanks guys – it was a great and truly indulgent challenge!