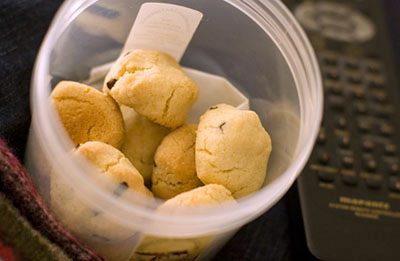 Never too young to listen to Mavis Staples.
Never too old to read Shaun Tan.
Never too full for just one teeny tiny TV snack…
Croq-Télé (TV Snacks) :
(makes about 50 cookies; adapted from Patisserie Arnaud Larher, in Dorie Greenspan's Paris Sweets)
100g blanched almonds
100g sugar
1/4 to 3/4 teaspoon salt, according to taste
140g plain flour
100g cold unsalted butter, diced
Position the racks to divide the oven into thirds and preheat the oven to 180'C. Line two baking trays with baking paper and set them aside.
Put the almonds, sugar, and salt in the work bowl of a food processor fitted with the metal blade and pulse, scraping down the sides of the bowl now and then, until the nuts are finely ground, about 2 minutes. Turn the nut sugar onto a piece of wax paper and keep it close at hand.
Put the flour in the work bowl of the food processor and, with the motor running, drop in the pieces of cold butter. As soon as all the pieces are in, switch to pulse mode and pulse just until the mixture looks sandy. Add the nut-sugar mixture and pulse in 3- to 4-second spurts until the dough forms small curds and clumps. Scrape the dough onto a piece of baking paper.
To shape the cookies, pull off small pieces of dough about the size of cherries and squeeze them in your hand to form irregularly shaped chunks. Place the pieces of the lined baking trays, leaving about 1.5cm space between them.
Bake for 9 to 11 minutes, rotating the sheets top to bottom and front to back after 5 minutes, or until the cookies are set but not really browned. The cookies will still be soft. Let the cookies rest on the baking sheet for 3 minutes, then, using a wide metal spatula, carefully transfer them to racks to cool to room temperature.
The cookies can be kept in an airtight container at room temperature for up to 5 days or frozen for up to 1 month.