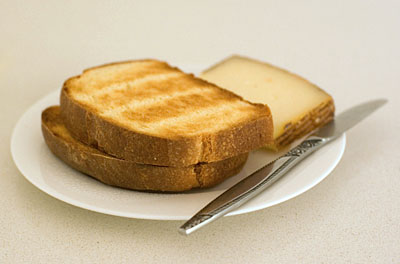 Rough night last night. Sat through the whole of the final for the 2008 Eurovision Song Contest. Phew. I mean, what's with the ice-skater, the man with the unbuttoned shirt and the guy playing the violin, on his knees? Commiserations to B for Ireland's top drawer entry by Dustin the Turkey, not even making it in to the final. Ireland was surely robbed!
Now all I need is something soothing to help me start the day. A slice or two of a simple milk loaf, toasted. A wedge of Manchego from La Mancha in Spain. A cup of tea. The simple things in life paving the way for what looks like the beginnings of a very good day.
This milk loaf is my contribution to BBD #10, hosted by Melissa of Baking A Sweet Life. The theme she has chosen is Breakfast Breads.
Simple Milk Loaf :
(from The Art of Handmade Bread by Dan Lepard)
1 1/2 teaspoon fresh yeast, crumbled
350g whole milk at 20'C
1 tablespoon corn or maple syrup
250g plain flour
250g bread flour
1 1/4 teaspoon fine sea salt
2 tablespoons warm melted unsalted butter
In a large bowl, beat the yeast with the milk and syrup. Add the flours and the salt, and squidge the lot together with your hands until you have a soft, sticky dough and the flour and liquid have evenly combined. Pour over the warm melted butter, and then squeeze this into the dough. Scrape any remaining dough from your hands, cover the bowl and leave for 10 minutes. Rub 1 teaspoon of olive oil or corn oil on the work-surface and knead the dough for 10 seconds, ending with the dough in a smooth round ball. Wipe the bowl clean and rub with 1 teaspoon olive oil, return the dough to it, cover and leave for an additional 10 minutes. Repeat this light kneading twice more, at 10 minute intervals, then leave the dough for 30 minutes.
Grease and flour a deep loaf pan. Divide the dough into two equal pieces and shape each into a ball. Drop them side-by -side into the prepared pan, cover with a cloth, and allow to rise for 1 1/2 hours, or until almost doubled in height.
Preheat the oven to 210'C. Brush the top of the loaf with a little cream or milk, and bake for 15 minutes, then lower the heat to 176'C and bake for an additional 25-30 minutes, or until the top of the loaf is a shiny dark brown, and the loaf has come away from the sides of the pan. Remove from the pan, and allow to cool on a wire rack.