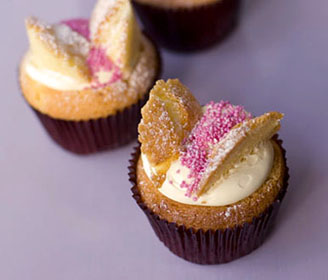 Would you believe, a group of butterflies is called a kaleidoscope?
A Spring Tea Party is about to be held at The Skinny Gourmet, and while the weather here is working it's way into Winter, there's no reason not to get the tea cups out and be a little Spring-inspired, with a kaleidoscope of Butterfly Cupcakes.
When my age was still in single digits, I used to sit out in the garden, having pretend tea parties with dolls for company and leaves and flowers for cakes. I still recall a picture in one of my mom's cookbooks, of some butterfly cakes that in my eyes, had a touch of the exotic to them. Well it's taken a good few years for me to finally make some.
I prepared similar cakes a couple of months ago for a post-show party for a ballet. They were canape-sized butterfly cakes, which until then, I never would have thought would make good finger food. As they're pretty easy to prepare, they would be very suitable for a kids' tea party too. This big kid certainly thinks so! 🙂
Butterfly Cupcakes :
(serves 12; adapted from a Delia Smith recipe in her Book of Cakes)
175 g self-raising flour
110 g unsalted butter, at room temperature
110 g caster sugar
2 large eggs
1 teaspoon vanilla extract
grated rind of 1 lemon
pinch of salt
Preheat the oven to 190'C.
Cream the butter and sugar until smooth, add the eggs one at a time, beating well between each addition. Mix in the vanilla and lemon rind, then the sifted flour and salt. Beat this mixture until just combined.
Divide the mixture between 12 cupcake cases and bake for 15-20 minutes until the cakes are golden brown. Allow them to cool completely on a wire rack.
[To decorate, angle a small sharp knife and cut to within about 1 cm of the edge of the cake to remove a cone-shaped round, leaving a cavity in the centre. Cut the round in half and set aside. These are the wings. Fill the centre of each cake with jam and whipped vanilla cream (or a filling of your choice. Delia Smith uses orange curd] and return the two pieces of cake to sit on top like butterfly wings. You can also decorate further with coloured sprinkles, grated chocolate, etc. Dust with icing sugar to serve.]