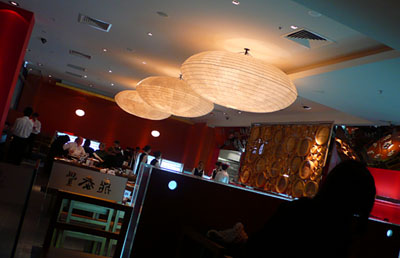 My dad is of the opinion that there are two types of Chinese people in the world. Those who like noodles and dumplings, and those who prefer rice. My dad loves noodles – he grew up on noodles that his mom, my grandmother, hand-made on a regular basis. As he comes from a very big family, I can imagine the task of making enough noodles to feed everyone, would have been enormous indeed. Hence it was also a big treat for us kids to have these noodles, whenever my grandmother sent us some as a gift.
I must confess, I am a rice eater. I can eat almost anything with rice, even spaghetti sauce, no matter how incongruous the two may seem. So it wasn't really the news about a world famous dumpling chain finally opening in Sydney that caught my eye. Rather, it was Lorraine's enthusiastic post about her visit to Din Tai Fung, that made me want to check the place out as well. Din Tai Fung has the honour of being rated one of the top 10 restaurants in the world by the New York Times. However, as a friend cautioned, this accolade was bestowed in 1993, and a lot can happen in the intervening time. Standards can slip, etc etc.
Luckily, this doesn't turn out to be the case. While the spicy dumplings that we first order are a bit too oily for me, it is the soup dumplings (which Din Tai Fung are famous for), that truly seal the deal. With the soy sauce and slivers of ginger (the recommended accompaniments, which you really need to bring out the flavours of the dumpling), and the little laminated card in English, showing you the correct way to eat soup dumplings, every mouthful was a stomach-pleasing revelation. The dumpling dough was just the right thickness – thin enough, to not be pasty and gluey, and just thick enough to not break and spill it's liquid contents before it hits your mouth. I'd happily fill up on soup dumplings alone, even if it's just pork dumplings, or variations on the theme of pork dumplings. B and Calamari finish their meal with bowls of dumplings and noodles in soup which with the help of most of the condiments on the table (chilli oil, black vinegar and soy) renders the dish worthy of a big thumbs up.
A few quibbles I have with the place. While the service was friendly, I found it a touch too obsequious. Even though it's early days for this branch of the famous chain (it's only a few weeks young, afterall), I was also disappointed to see a lot of "Not Available" stickers next to quite a few menu items (mostly vegetarian dishes, as well as a few "special" items like a crab and pork dumpling).
That said, I'm looking forward to returning. With all those lovely soup dumplings waiting to be slurped up, it's like having Yum Cha in the evening. What's not to like about that?
Din Tai Fung
Shop 11. 04 Level 1
World Square Shopping Centre
644 George St
Sydney 2000.