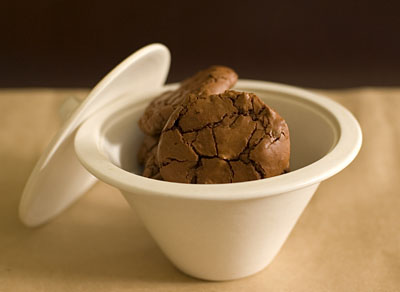 Don't they look great? Just wait til you hear what they're called.
Are you ready?
Chocolate Brownie Cookies.
I know! Chocolate. Brownie. Cookies!
Three of my favourite words, in the form of a bite-sized snack. Genius, isn't it? You should smell them while they're baking. The chocolate aroma is so intense, it's like someone managed to capture the pure essence of chocolate, in a scent. That person, is Claudia Fleming, and these cookies were one of her signature items during her time as Pastry Chef at the Gramercy Tavern.
Of course, these cookies are great eaten as they are. They have a crisp shell on top, and a moist, chewy brownie-like middle bit. If you want to gild the lily a little, I suggest sandwiching them with ice-cream. I usually like my home-baking to be simple and uncomplicated by extra bits and bobs, but trust me, ice-cream sandwiches made with these cookies are intensely good!
These cookies are dedicated to Elyse and her dad, Lou, in Connecticut. Hello! 🙂
Chocolate Brownie Cookies :
(from The Last Course, by Claudia Fleming)
45g plain flour
1/4 teaspoon baking powder
1/8 teaspoon salt
2 large eggs
150g sugar
1/2 tablespoon brewed espresso
1 teaspoon vanilla extract
30g unsalted butter
141g extra-bittersweet chocolate, chopped (66%-80%)
56g unsweetened chocolate, chopped
3/4 cup mini chocolate chips [I used 30g cocoa nibs instead]
Preheat oven to 190'C. Line 2 baking trays with baking paper.
In a small bowl, whisk together the flour, baking powder, and salt. Set aside.
In the bowl of an electric mixer, briefly whip the eggs to break them up. Add the sugar, espresso, and vanilla and beat on high speed for 15 minutes, until thick.
While the eggs are whipping, place the butter in the top of the double boiler, or in a metal bowl suspended over a pot of simmering (not boiling) water, and scatter the extra-bittersweet and unsweetened chocolate on top. Heat until the butter and chocolate melt. Remove the boiler top from over the water and stir the chocolate and butter until smooth.
Gently fold the chocolate mixture into the egg mixture until partially combined (there should still be some streaks). Add the flour mixture to the batter and carefully fold it in. Fold in the chocolate chips. If the batter is very runny, let it rest until it thickens slightly, about 5 minutes.
Drop the batter by heaping teaspoonsfuls onto the prepared baking sheets and bake until puffed and cracked, 8 to 9 minutes. Cool on a wire rack before removing from the baking trays.
[Note: Yield for this recipe is supposed to be 5 dozen, but I got 42 cookies. Maybe my teaspoons are greedier 🙂 ]