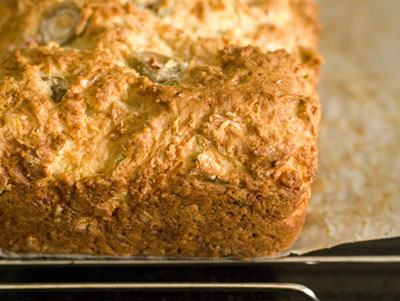 Hard to believe it now, but when we were kids, my younger brother and I used to fight like cats and dogs all the time. Of course in retrospect you realise how silly and trivial the arguments were. But at the time, there seemed nothing more important than gaining the upperhand over the choice of television station, or wrestling for supreme control over the Super Nintendo. In fact, we fought so much that I can barely remember what happened inbetween fights.
One thing I do fondly recall in our moments of truce, were the hot breakfasts I would occasionally make for him. Welsh rarebit, scrambled eggs on toast, french toast with honey. A rather limited repertoire, but he didn't seem to mind. He was, and remains, a big fan of most things cheesy and eggy anyway. Thankfully these days, the fighting as ceased, but the cooking remains. It occured to me today that I haven't made anything for him in ages (the last thing was probably a batch of biscuits). This quick bread which I decided to bake, is not short on either of his favourite ingredients and also has a few of my favourites like olives and oodles of fresh herbs such as thyme. So even on paper, this bread is already a winner.
Cheese, olive and buttermilk herb bread also doubles as my contribution to this week's WHB, hosted by Laurie of Mediterranean Cooking in Alaska; a blog I love taking a peek into for Laurie's beautiful and mouth-watering dishes.
There are many different types of thyme available for culinary use such as lemon thyme and silver thyme. For this recipe, I have used common/garden thyme which grows in a little pot on my balcony.
Cheese, olive and buttermilk herb bread :
(from Mix & Bake by Belinda Jeffery)
335g plain flour
2 teaspoons baking powder
1/2 teaspoon bicarbonate of soda
1 teaspoon salt
1 teaspoon freshly ground black pepper
1/2 teaspoon dry mustard powder
60g freshly grated parmesan
60g grated cheddar
75g stuffed olives, sliced
1/4 cup snipped chives
2 teaspoons thyme leaves
2 eggs
2 1/2 tablespoons olive oil
310ml buttermilk
egg wash (optional), made from 1 egg yolk and 2 teaspoons water
extra thyme sprigs and sea salt, for topping
Preheat your oven to 180'C. Butter a large loaf tin (about 23 x 13 x 6 cm) and either line with buttered baking paper or dust it with flour, then set it aside.
Sift the flour, baking powder, bicarbonate of soda, salt, pepper and mustard powder into a large bowl. Add both of the cheeses, the olives, chives and thyme and stir them thoroughly together.
In a separate bowl, whisk the eggs, then whisk in the oil and buttermilk until they're well combined. Make a well in the middle of the flour mixture and pour in the buttermilk mixture. Stir together until they form a thick, sticky batter. Scrape this into the prepared tin and smooth it out evenly. If you're using the egg wash, brush it over the top, then sprinkle some small thyme sprigs and sea salt onto the loaf.
Bake for 40-45 minutes or until a fine skewer inserted in the middle of the loaf comes out clean – you can almost tell by the tantalising aroma alone when it's ready. Remove from the oven and leave the loaf in the tin for 5 minutes, then turn it out onto a wire rack, remove the paper and leave it to cool.
This bread tastes best when it's still barely warm or at room temperature. If you find you have leftover bread, wrap it tightly and store it in the fridge for up to 3 days. When you want to use it, wrap it loosely in foil and heat it gently in a 150'C oven. It is still fine for a few more days after that, but is best sliced and toasted.