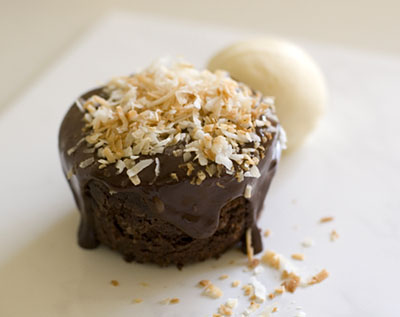 If you've come here for a debate about the provenance of the humble lamington, you've come to the wrong place. Heck, I can't even spell lamington properly. I keep wanting to type lamginton! So, no argument here. Hey, I'm multicultural, baby. Take it to the world; make it global. It exists here, and that's all that matters.
Here's another take on the lamginton.. I mean, lamington! To call it a lamington might be stretching definitions a little bit, as it consists of a chocolate mousse cake/pudding, topped with warm chocolate ganache and toasted coconut. The mousse cake is a revelation. It's so light, yet intensely chocolatey and moist, oh yes, it's moist. It's so moist I have trouble saying the word moist while my mouth is full of moisture injected lamington. It reminds me a little of the warm chocolate fondants we used to make at a bistro in the city. These ones, I think, are even better, so I don't really mind what they're called. Like I said before, I'm global, pan-wordable, choco-cultural, whatever.
This recipe comes from the head chef, Kate Fay, of an Auckland restaurant called Cibo. She used to work at the French Cafe, which incidentally also has a beautiful book out at the moment; one that is as high on my list of must-gets, as the Pier one was when it was first released. She serves the baby chocolate lamingtons with a wedge of coconut parfait, drizzled with more chocolate ganache, but I've gone for simple and used vanilla ice-cream instead.
Baby Chocolate Lamingtons :
(serves 8; from Cibo : Food with Attitude by Kate Fay and Jeremy Turner)
For the mousse cakes :
225g unsalted butter
320g dark good-quality chocolate
6 eggs, separated
135g caster sugar
100g flour, sifted
Preheat the oven to 150'C.
Butter and flour eight small brioche moulds.
Melt the butter and chocolate in a metal bowl over a saucepan of boiling water.
Beat the egg yolks and sugar until thick and pale. Fold in the chocolate and butter mixture, then add the flour. In a separate bowl, whisk the egg whites to soft peaks, then fold into the chocolate mixture.
Pour the batter into the moulds to fill three-quarters of the way up the sides and bake for 15-20 minutes.
Take care not to overcook; the inside of the cakes should still be slightly soft.
Cool the cakes in their moulds and turn out when cool.
For the chocolate ganache:
1 cup cream
200g dark chocolate
Bring the cream to the boil in a small saucepan. Melt the chocolate in a double-boiler. When the chocolate has melted, whisk in the warm cream. Set aside and keep warm.
Before serving, place the mousse cakes on a rack. Coat with the warm chocolate ganache and sprinkle with some toasted shredded coconut.
[Note: I used metal dariole moulds, and baked the mousse cakes for 15 minutes, which I thought was just right, but could even have been cooked for maybe 1 minute less than that, for an even softer middle.]