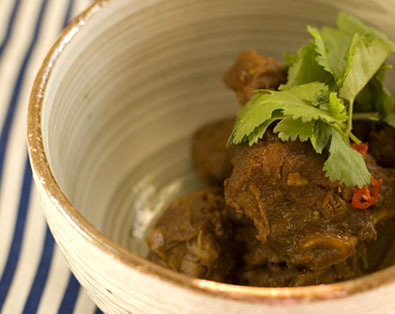 braise
[BRAYZ]
A cooking method by which food (usually meat or vegetables) is first browned in fat, then cooked, tightly covered, in a small amount of liquid at low heat for a lengthy period of time. The long, slow cooking develops flavor and tenderizes foods by gently breaking down their fibers.
One thing you can't begrudge Winter for, despite the grey skies and cold winds that sting your ears and catch in your throat, is the saving grace of braises. Braises, casseroles, hot pots – these used (and probably still are) to be the norm in most households. The one-pot-wonder that feeds the entire family. For me, they have become a bit of a luxury because of the time they often require in the oven. It is time I usually don't have once I'm home from work and am feeling ravenous.
You may wonder why I don't simply leave the pot in the oven to do it's thing while I go about my day. Well, apart from being a mildly paranoid person to begin with, who could never leave anything unmanned at the stove or in the oven, I'm often reminded of the time my sister and I got back from school, to be greeted by a house full of smoke. The culprit? A pie, now black and cindery, in the microwave which my mom had decided to use, while she was out picking us up from school. Hilarious now that I think about it, but scary at the time because we thought the house was on fire.
Another reason to love a good luxurious braise, is it's use of non-luxurious cuts of meat like the shoulder and neck, which I find thrillingly cheap compared to fillets which can make for quite boring eating at the same time.
For this recipe, I used 700g of pork shoulder, on the bone, which I asked the lady behind the counter to chop into chunks for me. My original intention was to make a Burmese pork dish from the same recipe book, but I couldn't find the required green mango for the dish, so decided to make this Indonesian one instead. After adding the liquids and bringing it to a boil, I covered the pot and finished the cooking in the oven. In about 1 1/2 to 2 hours, the sauce had reduced and the meat was extremely tender and very flavoursome. It didn't need any extra seasoning at all. I served this with rice and a side of brussel sprouts sprinkled with balachaung. The original recipe by Wendy Hutton is below.
Spicy Balinese Pork :
(Babi Masak Kecap; from Green Mangoes and Lemon Grass by Wendy Hutton)
4-6 large red chillies, sliced
8 shallots, minced
4 cloves garlic, minced
5cm ginger, minced
1 teaspoon dried shrimp paste, toasted
3 tablespoons oil
600g pork shoulder, in 2 cm slices, cut in 3cm squares
3 tablespoons sweet soy sauce
1 tablespoon lime juice
375ml water
salt to taste
Process the chillies, shallots, garlic, ginger and shrimp paste to a smooth paste in a spice grinder, adding a little oil if necessary to keep the blades turning.
Heat the oil in a wok or saucepan with a heavy base, then add the chilli paste and stir-fry over low-medium heat, 4 minutes. Add the pork and stir-fry over medium heat until it has changed colour, about 5 minutes.
Add the soy sauce, lime juice and water. Bring to the boil, cover, and simmer over low heat, stirring occasionally, until the pork is tender and sauce has thickened, about 1 hour. Taste and add salt if desired. Transfer to a serving dish and serve hot with steamed white rice and vegetables.