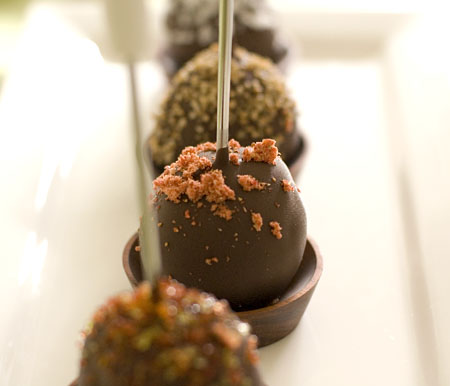 I'm hoping that I'm not the only person who realised late late yesterday afternoon that the Daring Bakers Challenge was due on Sunday. Yikes! A quick powerwalk to the shops then, to source some cream cheese, eggs and lollipop sticks. The first two weren't hard to find (and cream cheese always reminds me of Philly spread on bagels.. mmmm..), but I didn't manage to get any lollipop sticks. Completely forgetting that skewers were a possibility, I decided to use some fondue forks I had at home instead. [Note to self : How about buying and eating 30 chuppachups for their sticks? Viable option?]
Anyway. Woke up this morning, splashed some water on my face, and thought, Right. I'm going to dip me some balls. Call the nurse. Nurse! Bring forth the balls from cryostasis! This is going to require the couverture.
And the end result? Well, cheesecake, pumped full with dairy as it is, is like kryptonite to B, and I personally am not a big cheesecake fan either, but I was very fascinated by this recipe all the same. I mean, who would've thought you could serve cheesecake in this way? I'm keeping this one in mind for the next time my little nieces are in town, with one important change : I think it might be easier to handle and subsequently eat these pops if they were smaller. Maybe half the size, would make them much better for dipping in chocolate, and a little less of an assault on the stomach, seeing as they're quite dense balls of cheese! Or is that just the non-cheesecake eater in me speaking?
Many thanks to Elle and Deborah for picking such an interesting recipe. Also, I'd also like to give a big shout out to Ivonne and Lis who worked hard at creating a new home for the ever increasing family of Daring Bakers. Thanks guys! It must feel like a second full-time job by this stage, so just so you know, we all totally appreciate it! 🙂
Cheesecake Pops :
(Makes 30-40 pops; from Sticky, Chewy, Messy, Gooey by Jill O'Connor)
5 x 226g packages cream cheese at room temperature
2 cups sugar
¼ cup all-purpose flour
¼ teaspoon salt
5 large eggs
2 egg yolks
2 teaspoons pure vanilla extract
¼ cup heavy cream
453g dark chocolate, finely chopped
2 tablespoons vegetable shortening
Assorted decorations – optional [I used coloured sugar, strawberry powder, shredded coconut and maple sugar]
Position oven rack in the middle of the oven and preheat to 166'C. Set some water to boil.
In a large bowl, beat together the cream cheese, sugar, flour, and salt until smooth. Add the whole eggs and the egg yolks, one at a time, beating well after each addition. Beat in the vanilla and cream.
Grease a 10-inch cake pan (not a springform pan), and pour the batter into the cake pan. Place the pan in a larger roasting pan. Fill the roasting pan with the boiling water until it reaches halfway up the sides of the cake pan. Bake until the cheesecake is firm and slightly golden on top, 35 to 45 minutes.
Remove the cheesecake from the water bath and cool to room temperature. Cover the cheesecake with plastic wrap and refrigerate until very cold, at least 3 hours or up to overnight.
When the cheesecake is cold and very firm, scoop the cheesecake into 56g balls and place on a parchment paper-lined baking sheet. Carefully insert a lollipop stick into each cheesecake ball. Freeze the cheesecake pops, uncovered, until very hard, at least 1 – 2 hours.
When the cheesecake pops are frozen and ready for dipping, prepare the chocolate. In the top of a double boiler, set over simmering water, heat half the chocolate and half the shortening, stirring often, until chocolate is melted and chocolate and shortening are combined. Stir until completely smooth. Save the rest of the chocolate and shortening for later dipping, or use another type of chocolate for variety.
Quickly dip a frozen cheesecake pop in the melted chocolate, swirling quickly to coat it completely. Shake off any excess into the melted chocolate. If you like, you can now roll the pops quickly in optional decorations. Place the pop on a clean parchment paper-lined baking sheet to set. Repeat with remaining pops, melting more chocolate and shortening (or confectionary chocolate pieces) as needed.
Refrigerate the pops for up to 24 hours, until ready to serve.