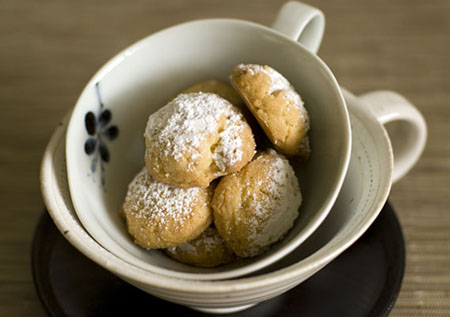 The food of Mexico has been chosen by Dhivya of Culinary Bazaar, to kickstart her event celebrating the various cuisines of the world.
I fancied something small and sweet to have with the copious cups of tea I have been indulging in, now that the weather has gotten much cooler, so I thought I would try making a batch of Mexican Wedding Biscuits. I've seen many recipes for these biscuits around, and the idea of 'wedding biscuits' sounds so cheerful and celebratory, that I knew it was only a matter of time before I got inspired to finally make them one day.
Mexican Wedding Biscuits, also known as Polvorones de Nuez are rich buttery shortbread-style biscuits containing chopped nuts. These biscuits are usually rolled in icing sugar after they're baked. Apparently they are traditionally served at weddings and most festive occasions, though I can't say I've ever been lucky enough to attend a wedding featuring these lovely biscuits.
This recipe by Belinda Jeffery, comes from a surrogate aunt who made a huge batch of these biscuits for Belinda's wedding. My only change to the recipe was that I rolled the biscuit dough into balls rather than dropping teaspoonfuls of the mixture onto the baking trays.
'Auntie' Beryl's Mexican Wedding Biscuits :
(Makes about 45; from Mix & Bake by Belinda Jeffery)
250g unsalted butter, at room temperature, cut into large chunks
80g pure icing sugar, sifted
2 1/2 teaspoons vanilla extract
70g roasted hazelnuts or pecans, finely chopped
300g plain flour, sifted
icing sugar, for coating
Preheat oven to 175'C. Line two or three baking trays with baking paper and set aside.
Put the butter, icing sugar and vanilla extract into a bowl and, using an electric mixer, beat them together on medium speed for 5 minutes or until they're light and fluffy. In another bowl, thoroughly mix the nuts and flour together. Tip the nut mixture into the butter mixture and stir the together until they're well combined.
Drop heaped teaspoonfuls of the biscuit mixture onto the prepared baking trays, leaving a few centimetres between each one so the biscuits can spread a little as they cook.
Bake the biscuits for about 20 minutes. Halfway through the baking time, rotate the trays so they sit on different shelves and turn each tray around, back to front, to help them cook evenly. After about 18 minutes, start checking the biscuits – they're ready when the tops are speckled with gold and the bottoms are golden brown (lift them carefully to check as they're rather fragile at this stage).
While the biscuits are baking, sift a thick layer of icing sugar onto a plate. When the biscuits are ready, remove them from the oven and let them cool for a minute or so on the baking trays. Sit a few biscuits at a time on the icing sugar and sift more icing sugar over the top. Transfer them to a wire rack and leave them to cool.