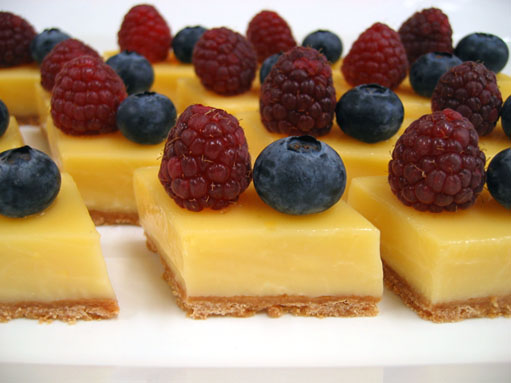 Last year, I made some lemon sour cream cakes as part of Barbara's event for LiveSTRONG Day.
LiveSTRONG Day aims to remember those who have lost their fight against cancer, to raise awareness and funds to help and support those who are fighting against cancer and to celebrate those who have survived. LiveSTRONG Day for 2008 is on May 13th. Check out the LiveSTRONG website if you want to get more involved with this day.
This year I thought I would continue on the theme of lemons, which to me epitomise the most yellow of foods, and contribute one of the most classic of lemon based desserts : the lemon tart. This recipe by Marco Pierre White is in my opinion, the definitive lemon tart recipe. It is a sumptuous treat that achieves that perfect balance between lemoniness and sugary sweetness. At work, we used to cut the tarts into small diamonds and top them with berries to be served as canapes. A silky smooth taste of yellow.
Tarte au citron :
(recipe, with slight adaptations, from Wild Food From Land and Sea by Marco Pierre White)
500g sweet pastry
5 lemons
9 eggs
350g caster sugar
250ml double cream
Using the sweet pastry, line and blind-bake a standard tart case. Brush the blind-baked tart shell with eggwash and return to the oven for a few more minutes before proceeding.
Finely grate the zest from four of the lemons, and squeeze the juice from them all.
Whisk the eggs and sugar together in a bowl, then add the lemon juice and zest. Stir in the cream. Strain and let sit for half an hour. Skim any froth off the top.
While the prepared tart shell is still hot, pour the lemon mixture into the shell. Bake at 120'C for 30-40 minutes until starting to set in the centre.
Remove from the oven and allow to rest and set for at least an hour before serving.