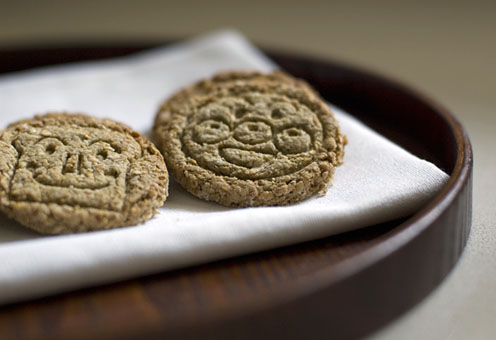 Continuing on with the theme of oats, I thought I would share with you something else I made recently, involving the use of lots of delicious nutty oatmeal.
Most of us probably know about Anpanman, the kids' superhero whose head is made of a bean jam bun called anpan. Rather bizzarely, Anpanman is capable of feeding the hungry by giving them bits of his head. His head is then restored by Uncle Jam, his creator. Anpanman battles for justice, with a collection of friends – one of whom is Shokupanman whose head is a slice of white bread.
I'm betting though that you probably haven't heard of OatcakeMan. Until now. OatcakeMan was baked one fine, but rather overcast weekend, and is a fusion of Scottish oatcake and Japanese Anpanman. I was whipping up a batch of oatcakes, and inspired by Duchy Originals Oatcakes with their signature stamp on each biscuit, I decided I would like to do something similar. The only stamps I could think of to use, were some plastic Anpanman bread stamps I bought when we were in Tokyo last October. The stamps are actually intended for using to mark Anpanman images onto pieces of white bread, but I never got round to trying it out. Anyway, oatcakes just seem so much tastier.
The resulting stamp on each oatcake worked quite well; the pattern remaining very defined even after baking. I'm thinking next time I could try something else, depending on what rubber stamps I could get hold of. Return to Sender, Property Of, Faxed … ? It could be Oatcakes : The Office Edition 😀
Meanwhile, OatcakeMan fights hunger, one decent piece of cheese at a time.
Oatcakes :
(from The Art of Handmade Bread, by Dan Lepard)
250g fine oatmeal
3/4 tsp fine sea salt
1/2 tsp baking soda
20g unsalted butter or lard
100g water at 20'C
additional oatmeal for rolling
In a bowl, combine the oatmeal with the salt and baking soda. Blend the butter or lard through the dry ingredients until all the lumps have disappeared. Add the water and mix until you have a soft dough.
Sprinkle a little fine oatmeal on the work-surface and place the dough on top of it. Sprinkle more oatmeal over the dough. Using the heel of your hand, bash the dough out to flatten it, then sprinkle more oatmeal on the top and underneath. Using a rolling pin, roll the dough to a scant 1/4in thick. While doing this, constantly run a spatula underneath to make sure the dough isn't sticking to the work-surface. Cut out discs using a 3in cutter and put them onto a baking sheet.
Preheat the oven to 204'C. Bake in the center of the oven for 30-40 minutes, or until the oatcakes are tinged with brown around the circumference. Allow to cool on a wire rack.
(Tip: Ideally, roll the dough out immediately, but if you can't you will find that the dough hardens. This isn't a problem; simply add a little more water to the dough and work this through with your fingertips until it is evenly combined, then roll it out).