I drink your milkshake!
.. has got to be one of the best lines of dialogue, in a movie I've watched this year. This particular one spits forth from the lips of Daniel Day-Lewis, minutes before the strange Kubrick-like ending of There Will Be Blood. Coupled with an atmospheric score by Jonny Greenwood which is such an integral part of the movie (like Paul Thomas Anderson's choice of music in Magnolia), it practically takes on a life of it's own; this movie still has me thinking, long after I've watched it. B and I had a discussion about it afterwards and have decided that it's even better than the Coen Brothers' No Country For Old Men, which was also a great movie.
That's the plus about having a long weekend. You get to catch up on things like TV (the third series of Great British Menu – which incidentally I think Australia should do a version of. It's very entertaining, and highlights chefs around the country you might not otherwise have heard of. Hopefully they'll cut all the drawn-out fluff though, but I can't see that happening), watching movies, and spending time in your kitchen. I've been doing a lot of cooking and baking over the past couple of days, and have discovered some recipe gems. Such as these little nuggets below.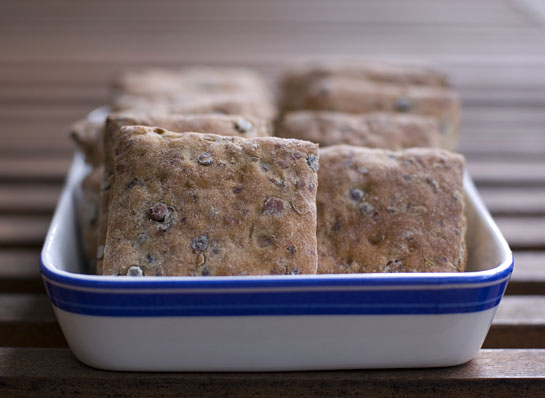 They're meant to be lentil rolls, but they turned out looking more like thick rusks. Not that I mind rusks. In fact, I quite like that word : rusks rusks rusks. Say it enough times, fast, and it starts to sound like Autumn leaves crushing under your feet (which also happens to be just the time of the year to be making these rolls). This evening, we dipped them in piping hot soups for what felt like a complete and wholesome meal. A mini virtuous hiatus in a lifetime of eating too many things we shouldn't.
It also seems like perfect timing that this month's Waiter There's Something In My.. event, features pulses. I'd promised myself recently that I would start eating more beans, lentils, chickpeas and the like. Aside from being notoriously tootin' fruitin', they're high in fibre and protein. I love them, when I can remember to eat them. If you're not too partial to them, here's a different way to put them into use :slip them into bread dough to hide them from your kids.. or yourself. Dan Lepard's lentil rolls are easy to make, requiring the most minimal of kneading and fussing over. I'm not sure if my attempt turned out as well as I had visualised, but I'm still happy to tell everyone about them because what I did get, were sixteen small, light, moist and very delicious rolls flecked with brown lentils. So even if they might not look like they should, if they taste good, you should just roll with it, baby, roll with it.
Lentil rolls :
(from Dan Lepard's The Art of Homemade Bread)
200g cooked Puy lentils, soft and drained
100g water at 20'C
1 tsp fresh yeast, crumbled
1 1/2 tbsp honey
200g bread flour
50g rye flour
3/4 tsp fine sea salt
Beat the cooked lentils with the water, yeast and honey, and leave to one side. In a large bowl combine the white and rye flours with the salt, then pour the yeast-liquid in. Mix until you have an evenly combined, soft and sticky dough. Scrape any dough from your fingers into the bowl, then cover and leave for 10 minutes.
Rub 1 tsp of corn or olive oil on the work surface and knead the dough on the oiled surface for 10 seconds, ending with the dough in a smooth, round ball. Clean and dry the bowl, then rub lightly with a tsp of oil. Return the dough to the bowl, cover, and leave for an additional 10 minutes. Remove the dough and knead once more on the oiled surface, returning the shape of the dough to a smooth round ball. Place it back in the bowl, cover, and leave for 1 hour in a warm place (21-25'C).
Lightly flour the work surface and roll the dough into a sheet measuring 10 x 8 inch (25 x 20cm). Lay this sheet of dough on a tray lined with a flour-dusted cloth, then cover the surface of the dough with another cloth and leave for 1 hour, or until almost doubled in height.
Preheat the oven to 210'C. Uncover the dough and cut into 16 squares. Carefully lift the rolls up and place them on a flour-dusted baking sheet, ensuring that the edges do not touch. Bake in the center of the oven for 25 minutes, or until the tops of the rolls are golden brown and feel light.