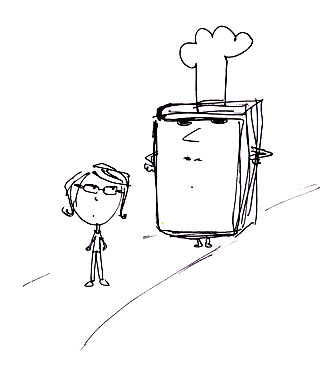 Dear Alain Ducasse, we have to talk. I think it's time to break up with you. Long have I clutched to the hopes and promises of a long lasting relationship with my treasured copy of your book, Grand Livre du Cuisine : Desserts and Pastries. Like personal love letters, each illustrated recipe exuded passion and was breathtakingly exquisite. But try as I might, I haven't managed to get a recipe to yield anything impressive. Quite possibly, it's not you, it's me. Something lost in the translation, or my inability to translate text into results on the plate. So unfortunately, what I have now is a very hefty, expensive paperweight, and I already have quite a few of those : weighty paper tomes that I hardly ever seem to use. It ends now. I think I need to move on. Much love, Y.
—
Even at the best of times, I struggle to come up with descriptions. Satisfactory answers to questions like How was your day or How was your weekend? At what point are details expected and at what point is a simple, Pretty good, thanks, more welcome?
Beirut at Manning Bar last Wednesday finally ended my run of seeing some of my favourite bands play fantastic live sets. It's one thing to complain about being jet lagged, and totally another to display such contempt for your audience that you spend the entire performance swigging whisky from a hip flask (and later straight from the bottle). It further reminded me about how good Okkervil River were, at the same venue the week before. And here is where I struggle to further explain why they were so good, and why I'm still raving about them weeks after the event. It's something to do about the alignment of the moons or being able to be professional and rock and roll in the same breath; a singer who gives it his all and the surprising power in his voice, the feeling of being witness to something inspiring; something that enhances your appreciation of the albums you already play too often at home.
These simple little things are what often surprise me with how pleasing and memorable they can become. Case in point with Sherry Yard's Rosewater and Almond Tea Cookies. After spending a good few days baking biscuits for a large order, you wouldn't think I'd still be able to eat or face talking about any more biscuits. Not at least for a month. It was an intense week of trying to maintain focus, humming Adele's Chasing Pavements, creaming butter and sugar, folding, rolling, slicing, baking. Repeat ad nauseum.
These biscuits? Actually, they're pretty good, thanks. Hard to say any more than that. These are not pretending to be any sort of special occasion type of biscuit. Rather, they are light and unassuming, like a quick kiss on the cheek in the morning. And like a kiss, I would quite happily have even just one, with a cup of tea, every day for the rest of my life.
Next week, Iron and Wine!
Rosewater and almond tea cookies :
(recipe from Sherry Yard's Secrets of Baking)
187g plain flour
50g almond meal
170g cold unsalted butter, cut into 1/2-inch pieces
187g icing sugar, sifted, plus extra for dusting
1/2 teaspoon salt
1 teaspoon vanilla extract
2 tablespoons rosewater
2 large eggs, at room temperature
Sift together the flour and almond meal into a medium bowl and set aside.
Using a standing mixer fitted with a paddle attachment or a hand mixer, cream the butter on medium speed until pale yellow, about 2 minutes. Scrape down the sides of the bowl and the paddle. Add the 187g icing sugar, the salt, vanilla, and rosewater. Cream on medium speed until it is smooth and lump free, about 1 minute. Stop the mixer and scrape down the sides of the bowl and the paddle.
Add the eggs, one at a time, scraping down the bowl after each addition, and beat on low speed for 15 seconds, or until fully incorporated. Do not overbeat.
On low speed, add the flour mixture. Beat until just incorporated. Remove the dough from the mixer, wrap it in plastic film, and refrigerate for at least 30 minutes.
Preheat the oven to 175'C. Adjust the rack to the lower third of the oven. Line two baking sheets with parchment paper.
Flour your hands. Pinch off pieces of dough and roll them into 1 inch balls. Place the balls 1 inch apart on the prepared baking sheets. Bake one sheet at a time for 12 to 15 minutes, or until light golden brown around the edges, turning the sheet front to back halfway through the baking.
As soon as you remove the cookies from the oven, cover them completely with extra sifted icing sugar. let the cookies cool completely before removing them from the sheets. Store the tea cookies in an airtight container for up to 3 days at room temperature.