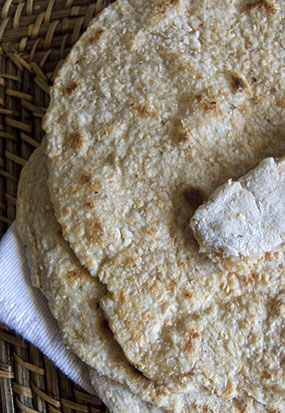 Petra of Chili und Ciabatta is hosting BBD #7 and joy of joys, she has picked flatbreads, as the theme. Here's my excuse, and an impetus, to have a go at making Chapati.
Flatbread doesn't get quicker, easier and flatter than this Northern Indian bread. While I love many other Indian breads like the fantastically flaky roti chanai, puffy puri and paratha, the plain and healthy chapati (or chappati) has always remained my favourite. The use of wholemeal flour makes it incredibly nutty and moreish, and I love eating it with my hands as the primary dining utensils, tearing up pieces of the bread to mop curries up with.
Chapatis are traditionally cooked on a hotplate called a thawa. A great demonstration of this technique (especially the ballooning of the bread) can be seen here. For this recipe, I followed the whole process through in a fry pan. Next time when I make this recipe again, I'm going to attempt the second half of the cooking on an open flame, as in the video. If the bread manages to puff up by at least half as much as it did in the demonstration, I'll be very pleased!
The recipe below makes enough for 6 large round breads. I made my breads smaller to accomodate my small frying pan, and therefore yielded more serves than that. As these breads are best enjoyed as soon as possible after they've been cooked, you can easily store the excess dough in the fridge for a couple of days and use only as much as you need, when you want to.
Chapati :
(recipe from Feast Bazaar by Barry Vera)
1kg (6 2/3 cups) wholemeal (wholewheat) flour, plus extra, for dusting
1 tablespoon vegetable oil
1/2 teaspoon salt
750ml (3 cups) water
Sift the flour into a mixing bowl and add the sifted husks back in. Make a well in the centre and add the oil, salt and water. Gently work the mixture together until a soft dough forms. Set aside for 10-15 minutes, covered with a damp tea towel.
Dust your hands with a little flour and form the mixture into six even-sized balls (about the size of a tennis ball). Flatten slightly with your hand, then, using a rolling pin, roll them out on a lightly floured bench until they are 5mm thick and 10cm in diameter.
Heat a non-stick frying pan over medium heat. Working one at a time, gently dry-fry each chapati on both sides for 2-3 minutes, or until a deep golden brown.
Serve the chapatis immediately with any meal as a bread option.