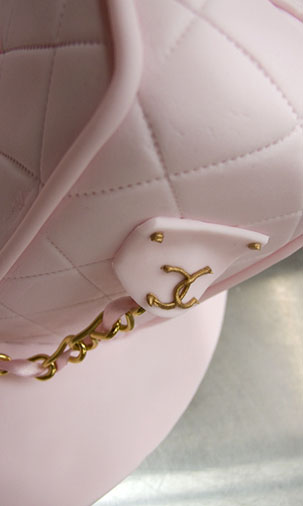 When you find you can't afford a Chanel handbag of your very own, perhaps the next best thing might be to make one yourself. Better yet, make it edible! That was partly my reasoning anyway, for signing up for yet another Planet Cake cake decorating course. Previous classes I'd attended had always been incredibly fun and enlightening, and this basic handbag course was no different. What I particularly love are the details like the stitching, the zipper and the gold chain interlaced with pink ribbon. The black double C's are cut out of rolled fondant and after they've been pasted on, are brushed with a transparent gel to give them a vinyl sheen. The smaller gold plated C's and button details are applied straight from a piping bag filled with a gold paste.
The end result almost made me want to pick the bag up and swing it over my shoulder.
—
It might be absolutely pelting down with rain, but armed with an umbrella, there's no excuse not to stop off at Adriano Zumbo in nearby Darling Street for a sweet treat or two. I'm always telling friends about Zumbo, and they usually express interest until I mention the fact that it's Balmain, then their eyes kinda glaze over.
This visit yielded some pointy hazelnut chocolate things and a delightful pink macaron creation that's not too dissimilar to Pierre Hermes' raspberry, rose and lychee flavoured Ispahan. The hazelnut chocolates were nice (meringue base, ganache inside, covered in chocolate and chopped hazelnuts), if not as fresh tasting as they could be (the nuts lacked a certain crunch factor, though I did like the silky smooth interior). Zumbo's version of the Ispahan on the other hand, was absolutely fantastic. Dare I say this, it was more flavoursome and perhaps even a tad better than the Pierre Hermes' classic that I had in Tokyo!
Planet Cake
106 Beattie Street
Balmain 2041
Adriano Zumbo Patissier
296 Darling St
Balmain 2041