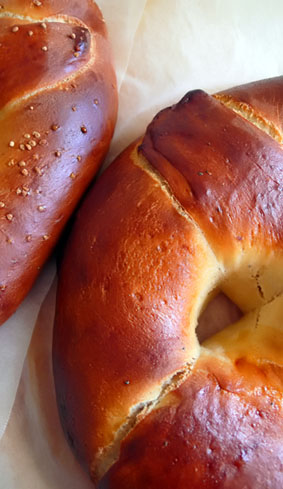 My version of Beatrice Ojakangas' Viipuri Pretzel turned out a little more bulbous than I expected. When I pulled it out of the oven, I had to chuckle. It looked like a pretzel on steroids; I could see it going, "Me, Pretzel!", thumping it's sugar crusted chest triumphantly, while his equally large siblings looked on. Unlucky for it, it was too delicious to leave alone. I pinched off a bit, and then a bit more, and soon the pretzel was conquered. "This. Is. Delicious!" I hollered, in my best King Leonidas voice.
Viipuri pretzel, or Viipurinrinkeli, is a traditional pretzel shaped sweet bread named after a city in eastern Finland. I was drawn to it for several reasons. Firstly, it's pretzel shaped, which panders to my obsession with all things pretzel. Then, there's the copious use of spices, which I love in sweet breads (the smell of cardamom filled the kitchen, even when just at the kneading stage). Finally, there's an interesting traditional method attached to the making of the bread. In the days of old, the shaped and proved dough would have been dipped in boiling water like you would a bagel, before it was baked on a bed of oat straw, which imparted an added flavour to the end product.
As my resulting dough was quite soft, I envisioned problems trying to lower it into a pot of boiling water, and so decided to leave tradition for another time (if I ever get my hands on some oat straw). Maybe next time, I will also make my pretzels smaller!
Viipuri pretzels are absolutely delicious with a cup of tea, and are my contribution to Bread Baking Day #6, as hosted by Eva of Sweet Sins.
Viipuri Pretzel :
(from The Great Scandinavian Baking Book by Beatrice Ojakangas; makes 3 loaves)
1 package (7g) active dry yeast
1/4 cup warm water
2 eggs
2 cups milk, scalded and cooled to lukewarm
1 cup sugar
1 teaspoon salt
2 teaspoons freshly ground cardamom
1/2 teaspoon freshly grated nutmeg
5 to 5 1/2 cups unbleached plain flour
1/4 cup softened butter
Glaze :
(optional)
1 slightly beaten egg
2 tablespoons milk
pearl sugar or crushed sugar cubes
In a large bowl, dissolve the yeast in the warm water. Let stand 5 minutes. Add the eggs, milk, sugar, salt, cardamom, and nutmeg and beat well until blended. Add 4 cups flour and beat until smooth. Stir in the butter and add flour until dough is stiff. Cover and let dough rest 15 minutes.
Turn dough out onto a lightly floured board. Knead, adding flour to prevent stickiness, until smooth and satiny, about 10 minutes. Wash bowl, grease it, and add dough to the bowl, turning it over to grease top. Cover and let rise in a warm place until doubled.
Cover 3 baking sheets with parchment paper or grease them and sprinkle with flour.
Turn dough out onto a lightly oiled work surface. Divide into 3 parts. Between hands and work surface, roll out each part of dough to make strands about 40 inches (100cm) long. Place on the prepared baking sheets in the form of a pretzel. Cover with a towel and let rise until almost doubled, about 45 minutes.
Preheat oven to 400'F (204'C).
Mix the egg and milk to make a glaze. Brush pretzels all over with the glaze and sprinkle with the sugar.
Bake for 20-25 minutes until golden. Do not overbake. Remove from oven and cool on racks.