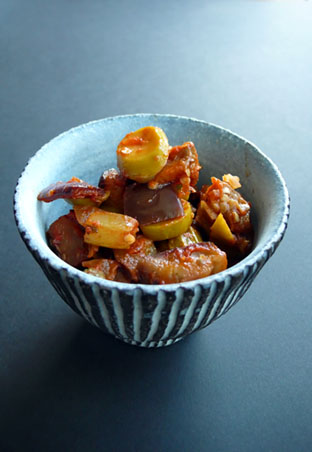 Once upon a time, I cooked so much caponata at work that I got put off by the smell of eggplant fried in olive oil. I can't even remember what we used it for, except that it disappeared quickly and after every lunch service, I was always back at the stove, frying off more salted eggplant and red capsicum.
It took a casual flip through a recent upholstered acquisition to stir up memories of why I love this rich, textured and tangy concoction. The clincher? It's the smallest sprinkling of grated bitter chocolate, stirred in at the end, which is not meant to be discernible as such. Rather, Maggie says it adds a certain mysterious note, and there's nothing I like more than mystery in my mixtures.
Maggie suggests serving this with game, but the only game we have in the house at the moment is Scrabble. So leftover Christmas ham it is!
The End.
Caponata :
(from Maggie's Harvest by Maggie Beer)
extra virgin olive oil, for cooking
3 eggplants, cut into 2cm cubes
2 sticks celery, cut into 1cm pieces
2 large onions, cut into 1cm pieces
1 x 410g can peeled chopped tomatoes (or 5 chopped ripe roma tomatoes and 1 tablespoon tomato paste)
1 1/2 cups pitted and sliced green olives
1/3 cup (65g) capers
1 tablespoon sugar
1/4 cup (60ml) red-wine vinegar
1/2 teaspoon grated bitter chocolate
Pour enough olive oil into a heavy-based frying pan to reach a depth of 3cm and heat until very hot. Throw in a small piece of bread or eggplant to test whether the oil is hot enough – if it turns golden brown immediately, the oil is ready. Fry a quarter of the eggplant until golden brown on all sides, then remove with a slotted spoon to drain on kitchen paper. Fry the remaining eggplant in batches, then cook the celery in the same oil. Discard the oil, wipe out the pan, then add 60ml fresh olive oil and place the pan over low heat.
Saute the onion in the olive oil until translucent, then add the tomatoes (and the paste, if you are using fresh tomatoes) and cook for 10 minutes. Stir in the olives and capers and cook for about 10 minutes more, or until the sauce is thick. Add the sugar, vinegar, eggplant and celery, then add the chocolate and leave it to melt. Carefully stir until the melted chocolate is combined, then remove the pan from the heat and leave the caponata to cool overnight. Serve at room temperature.
[Note: For chocolate, I used Michel Cluizel 72%, which I like for it's purity of flavour]