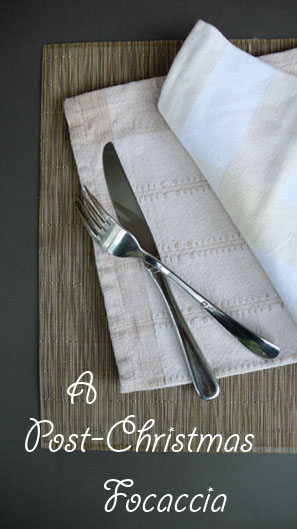 Uh oh. You've done it again. When out from the cupboard comes the special plastic disposable tablecloth, you know there's no turning back. Another Christmas, another case of overeating. You thought you'd be a picture of bird-like restraint this year, but there was a veritable feast laid out in front of you : cold prawns, pickled octopus, deep fried squid, glazed ham, whole fish stuffed with sambal paste, green salad with orange vinaigrette, oysters and lemon wedges, sashimi with soy and wasabi, crusty bread rolls, even pasta arrabiata and then the killer blow, microwaved pudding with vanilla custard, followed by cherries, grapes and blueberries. A hybrid Christmas meal embracing the quirks of our peripatetic tastebuds. Everyone tucking in like it was the last meal on Earth. Or maybe the planet had already blown up, and from it's different corners were flung this varied meal. The command issued was, "Eat!", and we obeyed.
Mid meal, you pause to think about the pig. The pig whose leg is caught between your teeth. You wonder whether it was pink and had mud between its toes. If it knew how prized its legs were, like a barnyard supermodel, Elle MacOink. If it knew that one day a quarter of its body would be hacked off, covered with spices and laid out on the altar, that plastic tablecloth. The memory of that leg, then strewn the next day over a soft bread dough, with scrapings from four different cheeses rescued from the depths of the fridge: an Ossau Irraty, Heidi Gruyere, Grana Padano and Piano Hill Ironstone. Baked together, like a glorified jaffle.
Then tasted, and waxed lyrical about. This pig, whose porcinographic leg you posted on the internet. The idea of the filled bread breaks you from your reverie. You pick the stray piece of leg from your teeth, examine it, then silently promise to do justice to the uneaten..
Post Christmas Focaccia aka Focaccia stuffed with Taleggio and Ham :
(serves 6-8; from Sue Lawrence's Book of Baking)
500g Italian 00 flour
7g sachet of fast-action/easy-blend dried yeast
1 heaped teaspoon salt
3 tablespoons extra virgin olive oil
100g good quality cooked ham
150g cubed Taleggio cheese, rind removed
40g (a handful) rocket
Make the bread dough by mixing the flour, yeast and salt in a large bowl. mix the oil with 275ml tepid water and pour into the flour, adding a touch more tepid water if necessary; you should have a fairly soft dough that comes away from the sides of the bowl.
Tip this on to a floured surface and knead for 10 minutes, until smooth. Place the dough in an oiled bowl, cover with clingfilm and place somewhere fairly warm to rise for 1 1/2 – 2 hours. Divide into two pieces and roll each out to fit a 23 x 33cm Swiss roll tin.
Place one piece in the tin, top with the ham, cheese and rocket (strewing everything casually over), then cover with the other piece, crimping the edges to sea. Cover and leave for 30 minutes. Meanwhile, preheat the oven to 220'C. Brush the focaccia with olive oil, prick it all over with a fork and bake for 20-25 minutes until golden brown. Cut into large sections and eat warm while the cheese is still gooey.
[Note for my substitutions, on days when all the shops are closed and what you've got in the cupboard is what you've got : No 00 flour, sub with plain flour. No Taleggio, sub with any other suitable melty cheese. No rocket, sub with other herbs such as thyme, parsley, rosemary, chives, basil and oregano.]