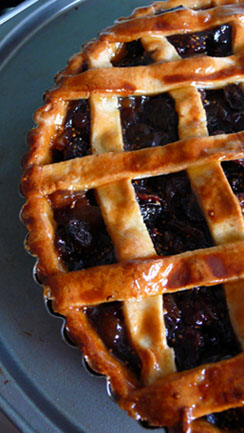 Ah, Christmas. How I love this time of the year. Despite the excessively long queues in Borders, the little kids at Pitt Street Mall playing shrill versions of Christmas songs on their (insert musical instrument here) and the piles of junk food repackaged as Christmas products in the supermarkets. I spent Christmas in Belfast, Northern Ireland one year, and couldn't believe how packed the shops were. There were queues in every conceivable shop – even the ones you wouldn't think were typical places to go to (like the chemist!), to do your Christmas shopping, were bulging with customers. If memory serves me correctly, I believe it even snowed and I felt like a little kid with my nose pressed up against the window pane, peering out over the ice covered landscape.
What I love about Christmas in Sydney is that it's the one time of the year that my family makes that extra special effort to get together. This year, my sis and her family are over from New Zealand for a couple of weeks. I don't get to see my nieces (7 yrs and 4) very often, so am thrilled to have the opportunity to spend time with them. As they get older, I hope I'll get a chance to do some baking with them too.
After being tortured last Christmas by the sight and smell of Andy's fruit mince tarts, I had resolved to bake my own. If you're thinking of baking your own mince tarts, there is now only one recipe I would recommend. It comes from Matt Moran's cookbook and is called Baked Winter Fruit Tart. Having tried this one, there's no turning back, not even to Hettie Potter's suet-free mincemeat. This one is equally guilt-free with no added fat in the fruit mix, and only about 75g of butter in total, in the pastry (well, depending on what your pastry recipe is like, that is). I've already made about ten of these as gifts (some with frangipane and flaked almonds on top, instead of the lattice of pastry), so can also vouch for the fact that the recipe multiplies very well indeed.
A very Merry Christmas to everyone!
Baked Winter Fruit Tart :
(serves 8-10; recipe from Matt Moran's cookbook)
45g dried apples
35g dates, pitted
100g dried pears
130g dried apricots
150g prunes
100g dried figs
1 teaspoon ground allspice
1 teaspoon ground cinnamon
100ml brandy
200g castor sugar
2 egg yolks
30ml cream
pinch salt
350g apricot conserve
sweet shortcrust pastry – recipe of your choice
Place all the dried fruit and spices in a bowl and add the brandy. Add enough hot water to cover the fruit, then cover and leave to soak for 24 hours in the refrigerator.
Make the pastry, allow to rest for at least 2 hours in the refrigerator. On a lightly floured surface, roll out half of the pastry to 5mm thickness and use it to line a greased 27 cm diameter tart tin, then place in the refrigerator. Roll out the other half of the pastry to 5mm thickness and cut into 1cm wide strips using a zig-zag cutter.
Preheat the oven to 170'C. Strain the fruit, reserving the soaking liquid. Roughly chop the fruit and set aside. Place the liquid in a saucepan, add the sugar and heat, stirring occasionally until the syrup is a light golden brown. Moisten the fruit with a little of the syrup to help it stick together – at this stage, feel free to add more syrup or brandy to suit your taste. Spoon the fruit mixture into the tart shell and lace the pastry strips on top in a criss-cross pattern. Lightly whisk the egg yolks, cream and salt together and brush over the top of the pie. Bake for 35 minutes or until the pastry is golden brown.
While the tart is still hot, bring the apricot conserve and 150ml of water to the boil in a small saucepan, stirring until the conserve has completely dissolved, then brush over top of the tart to glaze.
[Note: For my tart, I used what fruit I had at hand, which included raisins, cranberries, candied ginger, prunes and figs; all the kinds of things I'd like to see in a mince tart. As an additional tip, I would add a bit more fruit than it states in the recipe, so that you get a nice full tart and if you happen to have any leftover unbaked fruit, they can always go into the next tart, or be saved for next year! For the brandy, I substituted with Calvados (apple brandy) to further enhance the apple component of the tart. I also rather predictably, increased the spice content. After combining the sugar and strained liquid, I reduced it in the pan until it looked thickened and almost caramelised (but not burnt). When baking the tart, be sure to have a tray underneath to catch any drips from the syrup within the tart that might bubble over – it's nothing major, but it could save some cleaning-up time later]