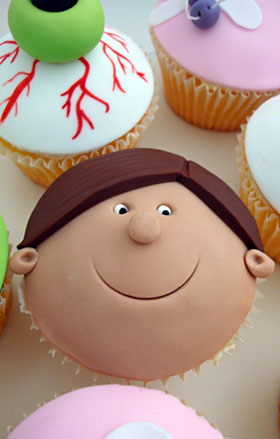 If I could, I would like to go to Cake School every day for the rest of my life. This was my second class at Planet Cake, and I enjoyed every minute of it. The first was a Basics 101 cake course, during which I learnt how to create a star spangled cake (by the way, the end result was gifted to a little girl called Emma, to help celebrate her 9th birthday). In this class, which took place over four quick hours last Saturday, the wonderful Anna-Maria guided us through the icing and decorating of twenty cupcakes – from faces to flowers, and my favourites, little bumble bees and ladybirds with edible feelers made of vermicelli.
I hope to sign up for a couple more classes next year, as they're very useful, loads of fun and also incredibly relaxing. Plus you get to take something home at the end of the day, to wow your friends with.
—
Of course, what trip to Balmain would be complete without a quick visit to Adriano Zumbo? The hardest part was choosing what to get because everything on display looked equally tempting. Eventually managed to leave clutching a small pear macaroon (delicious) and a chocolate passionfruit tart (wonderful consistency and flavour to the ganache) topped with a bonus mini yellow macaroon. Unfortunately, my tart didn't make it home without getting a bit of a battering (hence it's dishevelled look). On the way home, a strong gust of wind lifted the paperbag off the top of my cupcake box and fell butter-side-down onto the pavement. For a couple of horrific seconds before managing to rescue it, I thought it was going to end up under the forceful tyres of a passing car. Despite this, it managed to still taste great when I had it the next day with a cup of vanilla tea.
I've liked what little I've had the chance to try from this patisserie… but don't ask me, I'm just a Zumbo tourist; ask Raging Yogurt who must've eaten her way through their entire repertoire by now!
Planet Cake
106 Beattie Street
Balmain 2041
Adriano Zumbo Patissier
296 Darling St
Balmain 2041