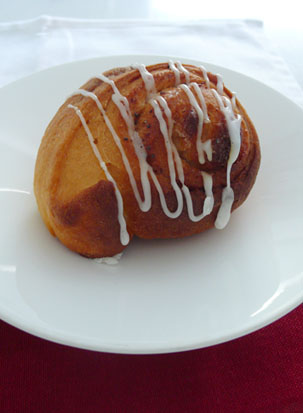 When I think of yeast, the words : Sea Monkeys, come to mind.
My mom used to keep a jar of dried yeast in our fridge. Having been told the yeasts in there were alive but sleeping, the jar was a constant source of wonder to me. Sometimes when I went to the fridge for some milk or a piece of fruit, I would happen to glance at the jar and pick it up, inspecting it as carefully as I could, almost convincing myself that I could see them moving inside. As I shook the jar, a couple of the light brown specks would stick to the sides of the glass, and these were the ones I imagined were alive, holding on to each other, trying to survive the sudden earthquake.
The illustrations on the front of Sea Monkey product I bought as a kid had me imagining that little yeasts would resemble their aquamarine friends somewhat. A King Yeast and a Queen Yeast with her plump and rosy smile, and their cute little yeasty children. We feed the yeasts and keep them warm, encouraging them to grow, but then we kill them with a blast of heat… which strangely enough, is almost the same way my Sea Monkeys eventually perished. Ah, the humidity!
King and Queen Yeast found their way into the Daring Bakers challenge this month. The objective was to bake a batch of cinnamon or sticky buns from a recipe by Peter Reinhart.
I've made similar buns before, but must say, the results from this recipe were pretty impressive. For starters, I loved the silky soft and pliable dough, which was such a pleasure to work with. Then, my favourite bit, which was sprinkling on the filling and rolling up the dough into a log. For fun, I used a fragrant spice mix from Herbies Spices which contained rose petals, poppyseeds and cinnamon, amongst other things. When the buns were pulled out of the oven, they were a gorgeous golden brown, and smelled absolutely divine. Not waiting the relevant minutes after baking and icing, I bit into one as soon as possible, and was rewarded with the taste of sweet, spicy, buttery, tender bread.
Cinnamon Buns :
92g granulated sugar
1 teaspoon salt
80g unsalted butter
zest of 1 lemon
1 egg
454g bread flour
2 teaspoons instant yeast
1 1/8 – 1 1/4 cup whole milk, at room temperature
1/2 cup cinnamon sugar
1. Cream together the sugar, salt, and butter on medium-high speed in an electric mixer with a paddle attachment. Whip in the egg and lemon extract/zest until smooth. Then add the flour, yeast, and milk. Mix on low speed until the dough forms a ball. Switch to the dough hook and increase the speed to medium, mixing for approximately 10 minutes, or until the dough is silky and supple, tacky but not sticky. You may have to add a little flour or water while mixing to achieve this texture. Lightly oil a large bowl and transfer the dough to the bowl, rolling it around to coat it with oil. Cover the bowl with plastic wrap.
2. Ferment at room temperature for approximately 2 hours, or until the dough doubles in size.
3. Mist the counter with spray oil and transfer the dough to the counter. Roll out the dough with a rolling pin, lightly dusting the top with flour to keep it from sticking to the pin. Roll it into a rectangle about 2/3 inch thick and 14 inches wide by 12 inches long for larger buns, or 18 inches wide by 9 inches long for smaller buns. Sprinkle the cinnamon sugar over the surface of the dough and roll the dough up into a cigar-shaped log, creating a cinnamon-sugar spiral as you roll. With the seam side down, cut the dough into 8 to 12 pieces each about 1 3/4 inches thick for larger buns, or 12 to 16 pieces each 1 1/4 inch thick for smaller buns.
4. Line a sheet pan with baking parchment. Place the buns approximately 1/2 inch apart so that they aren´t touching but are close to one another.
5. Proof at room temperature for 75 to 90 minutes, or until the pieces have grown into one another and have nearly doubled in size.
6. Preheat the oven to 175°C with the oven rack in the middle shelf. Bake the cinnamon buns for 20 to 30 minutes, or until golden brown.
8. Cool the buns in the pan for about 10 minutes and then streak white fondant glaze across the tops, while the buns are warm but not too hot. Remove the buns from the pans and place them on a cooling rack. Wait for at least 20 minutes before serving.
White fondant glaze for cinnamon buns :
Sift 4 cups of powdered sugar into a bowl. Add 1 teaspoon of lemon or orange extract and 6 tablespoons to 1/2 cup of warm milk, briskly whisking until all the sugar is dissolved. Add the milk slowly and only as much as is needed to make a thick, smooth paste.