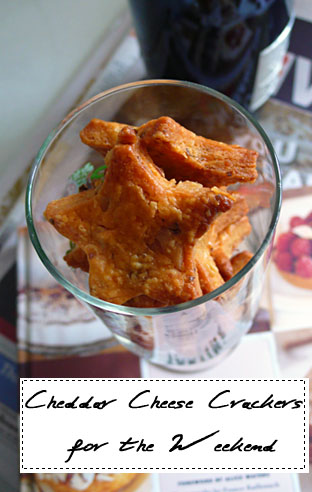 The past week has been kind of hectic but enjoyable. Yesterday at work someone had the temerity to remark, "You look much happier than when I saw you last"; a surprising comment. To be fair, the last time I saw him, I was preparing for a major charity function without any help, and his incessant chatter was driving me up the wall.
Anyway, I'm celebrating the end of the week with a stove-free Saturday. On Sunday, I might make a curry and catch a screening of the much anticipated Ratatouille. This week's WHB is hosted by Katie and her adventures with thyme/time at Thyme for Cooking, The Blog. For it, I thought I'd share a recipe for cheese biscuits which, like another recipe previously attempted, I would highly recommend with a glass of wine.
What do cheese biscuits have to do with WHB, you may well ask. Their secret ingredient highlights my ongoing obsession with peppers and chillis. Basically, if it moves, pepper it – with the exception of chocolate, which I've twice had flavoured with chilli, and was a bit underwhelmed by the experience each time. Hungarian Sweet and Spanish Smoked Paprikas, and Cayenne, Black and White peppers are all must-haves in my cupboard. Black and White peppers are both fruits of the pepper tree. The Black pepper is the unripe fruit, while the white is derived from ripe peppers. There are also green (unripe) and pink (ripe) peppercorns which you can often find preserved in jars. Paprika on the other hand, is made from ground dried capsicums/peppers and is used not only for its flavour, but also its amazing colour (hues of red and orange).
Case in point with these cheese biscuits, which only called for cayenne pepper, but I also managed to sneak in a sprinkling of chilli powder and Spanish sweet smoked paprika. Sweet smoked paprika in particular, seems to contribute a certain bacon-y savouryness to dishes which I can't get enough of. The mild heat of chilli also distracts a little from the cheesy/fattiness of the biscuit. And the glass of wine in hand tempers the heat for those who are less tolerant of the allure of the chilli.
With that, I raise my glass to everyone who is having a cracker of a weekend.. (oh, and Katie, hatching maggots in mushrooms is too much information, yes! 😛 )
Cheddar Cheese Crackers :
(recipe from Tartine by Elisabeth M. Prueitt and Chad Robertson)
105g plain flour
1 teaspoon salt
1/4 teaspoon cayenne pepper
3/4 teaspoon black pepper, freshly ground
225g sharp Cheddar cheese, grated
55g unsalted butter, at room temperature
70g walnuts, chopped medium fine
In a small mixing bowl, stir together the flour, salt, cayenne pepper and black pepper. Set aside. In the bowl of a stand mixer fitted with the paddle attachment, combine the cheese and butter and beat on medium speed until combined. Add the flour mixture and beat on low speed until incorporated. Stop the mixer and scrape down the sides of the bowl with a rubber spatula. Mix in the walnuts on low speed. The dough should be fairly stiff, with small chunks of cheese and walnut visible.
Gather the dough into a ball, flatten into a disk, wrap well in plastic wrap, and chill in the refrigerator until firm but still pliable, about 1 hour.
Preheat the oven to 205'C.
Unwrap the dough, place on a floured work surface, and roll out into a square or rectangle 1/8 to 1/4 inch thick. Cut the dough into whatever shape you like. Arrange the crackers on a lined baking sheet, spaching them about 1 inch apart.
Bake the crackers until golden brown on the edges and lighter in the center, 7-10 minutes, depending on size and thickness. Transfer to a wire rack and let cool completely. The crackers will keep in an airtight container in a cool, dry place for up to 2 weeks.