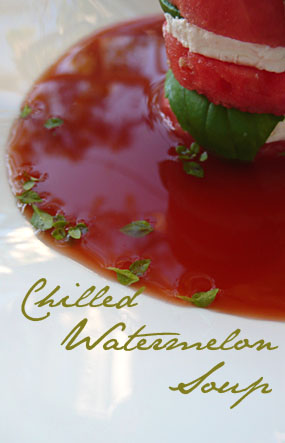 The cast-off quilt cover and warm sun streaming through our window this morning reminded me that Winter was no longer with us. It's almost time to pack away my fuzzy collared coat and say good bye to hearty soup purees. My favourite soup is pumpkin : pumpkin with bacon and chorizo, pumpkin and chickpeas, curried pumpkin,.. an endless list of permutations.
To celebrate Spring, it seemed a better idea to whip up something light and more weather appropriate. Enter the watermelon, which to me is the epitome of relief from hot weather. As part of the second annual Super Soup Challenge, run by Tami of Running With Tweezers, I present to you Chilled Watermelon Soup with Goat's Cheese Napoleons. This soup, with its wonderful blend of sweet, hot, sour and salty, is like a breath of fresh air, taken against clear blue skies and copious amounts of sunshine. It's somewhat similar to a gazpacho, and I might even go so far as to say it's a cross between a gazpacho and a Greek watermelon and feta salad – both of which I love, so there's no going wrong with this soup!
The recipe comes from a new-ish book by Paul Wilson, chef director of The Botanical in Melbourne. I had the opportunity to eat there early last year, and we liked it so much, we went back the next day. Quite a few of the dishes we had then, seem to have made it into the book, and so it is with great fondness that I'm able to remember (and possibly recreate) dishes such as the amazing soft polenta with poached egg and reggiano.
Chilled Watermelon Soup :
(serves 4, from The Botanical cookbook)
1 1/2 kg ripe seedless watermelon, rind removed
1 continental cucumber
1 small red onion
1 red capsicum
1 long red chilli
1 small garlic clove
1/4 bunch of basil
50ml cabernet sauvignon vinegar
2 tablespoons sugar
salt and freshly ground black pepper
Napoleons :
120g ripe seedless watermelon, sliced 2 1/2cm thick
1 x 160g goat's cheese log, about 6cm in diameter, if possible
24 basil leaves
50g olive tapenade
1 punnet micro basil leaves or handful of small basil leaves
100ml extra-virgin olive oil
To make the soup, combine the melon with all the vegetables and basil in a food processor. Blend, then pass through a fine sieve. Season with vinegar, sugar, salt and pepper. Chill until required.
To make the Napoleons, use a 6cm biscuit cutter to cut out rounds from the thick slices of melon, then cut each round horizontally into 1cm thick circles. Slice the goat's cheese the same way into rounds 1cm thick. Stack the watermelon and goat's cheese on top of each other with basil leaves sandwiched in between to make 4 stacks. You should have a total of 4 melon and 3 goat's cheese slices per stack.
Place the Napoleons into individual chilled bowls, top with a neat quenelle or mound of tapenade formed with 2 teaspoons. Decorate with micro basil leaves then surround the Napoleons with the chilled soup and some more basil leaves. Drizzle with olive oil and serve.