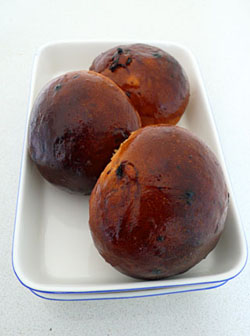 It seems not that long ago that there were only two types of plain flour on the supermarket shelves : branded flour like WhiteWings, or the cheaper 'home-brand' stuff. Last week I was in the baking aisle and noticed several new types of flour available. An Italian OO flour for pasta, an organic range and even a sponge flour (which I quite excitedly picked up and hope to trial soon). One thing that mystifies me though, is why does bakers flour come in such large (5kg) sacks. Doesn't anyone bake with just a 1kg bag? Or maybe it's true, once you get the (bread) baking bug, there's no looking back.
I've recently been inspired by a baker who visited us at work. He was there in hope to sign us on as a future customer. He brought two large boxes of freshly baked bread on the first day, and rather impressively, turned up unexpectedly the following day with yet another large box containing a completely different selection of bread. Never have I tried so much bread in one sitting! Turns out, he's self taught, and started out with a bakery on Oxford Street which must have done pretty well as he now also has a shop in Leichhardt. His breads are one of the finest and most interesting I've had in Sydney so far. Take the carrot bread for example, which has a great tanned crust and bright orange flecks of carrot through it. My boss and colleagues at work were as enraptured as I was, when listening to this man talk about bread and his passion for bread making.
Apparently one of the secrets of good bread, is a long proving time, which helps develop the complex flavours within the bread. In a recipe for a walnut fougasse I tried recently, the bread was proved and punched down at least four times before being baked in a hot oven. It tasted divine straight from the oven, and just as good, several hours later, with a little piece of stilton. However, it did also take almost half a day to make.
For a quick home made bread fix, I still like using the easy recipes that generally need no more than two proves and allows you to be snacking on freshly baked bread in no time at all. The flavour might not be as developed, but it still beats having a loaf of commercial bread any day of the week. The best thing is being able to customise the bread to your requirements. Take hot cross buns, which these days don't really require Easter to come round before they're already stacked in the aisles. In my experience, the commercial ones are never spicy enough, or fruity enough. This recipe by Sue Lawrence works really well and I love the use of golden syrup as a glaze. These glossy buns are perfect especially for this time of the year when there's nothing like the drifting scent of spices to warm up a wintery house. As I've omitted the traditional cross of dough on top and because a bite of these with a cup of tea makes me smile, I've renamed them…
Hot Happy Buns :
(makes 12)
500g unbleached strong white flour, sifted
1 teaspoon salt
40g light muscovado sugar (or brown sugar)
1/2 teaspoon mixed spice
1/2 teaspoon ground cinnamon
55g unsalted butter, chilled and diced
100g raisins and currants
25g mixed peel
7g sachet dried yeast
300ml mixed milk and water, heated to tepid
1 tablespoon golden syrup (for glazing)
Place flour in a bowl, then stir in the salt, sugar and spices. Rub in the butter until it resembles breadcrumbs. Stir in the dried fruits and peel, then stir in the yeast. Slowly stir in the tepid liquid and bring the mixture together in your hands to form a ball. Turn out on to a floured surface and knead for 10 minutes.
Place in a lightly oiled bowl and cover with oiled clingfilm. Leave for about 2 hours until well risen.
Lightly oil a baking sheet. Knock back the dough and divide into 12 pieces. Roll into balls and placed on the prepared baking sheet. Put in a warm place for about 45 minutes or until well risen again. Meanwhile preheat the oven to 220'C.
Bake the buns for 18-20 minutes or until puffed up and golden brown. While the buns are baking, gently melt the syrup in a microwave or a small pan over a low heat. Lift the buns on to a wire rack and brush the tops with the syrup. Leave to cool.
(Becke of Columbus Foodie is holding this month's round of Bread Baking Day, and lucky me, she has picked one of my favourite additions to bread : Fruit.)