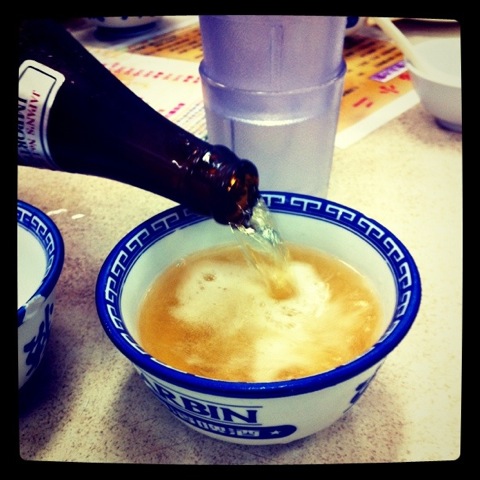 (Beer served in bowls at Tung Po; photo by Kerri Lin)
My lingering food memory of our trip to Hong Kong is of Lung King Heen's tender abalone pastries, a surprising discovery of braised pomelo pith from Tim's Kitchen and one of the best crab dishes I've ever had, courtesy of The Chairman. Everyone told us that it was important to book when eating in Hong Kong. There wasn't enough time to make reservations before our trip and despite this we still managed to eat pretty well at restaurants we walked into late in the evening, or at places where last minute bookings were possible. Out of the 11,000 restaurants existing in Hong Kong, we managed to try these :
Lung King Heen at The Four Seasons
The name means "View of the Dragon". Rated #93 on the "World's Best Restaurants" list for 2012 and known as the first Chinese restaurant in the world to receive three Michelin stars, it showcases Cantonese food using occasional luxury ingredients, in a refined setting. Tried and loved the steamed duck liver with abalone sauce, simmered king prawn in crystal sauce and scallops and tofu with crab roe. Complimentary amuse bouche and petit fours bookended this very enjoyable meal. Look out for their tea menu featuring premium teas, and if a phone call doesn't yield a booking, try the very helpful Four Seasons Hong Kong Twitter account.
8 Finance Street, Central, Hong Kong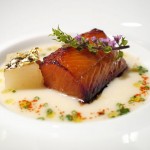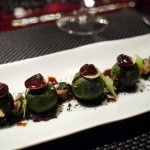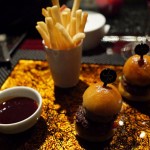 (Cod, escargot and wagyu burgers at L'Atelier)
L'Atelier de Joel Robuchon
I'd personally prefer a little less gold leaf with my dinner; all that glitters does not necessary taste of anything, but it certainly doesn't take the shine away from the strength of the dishes. Go for caviar, sea urchin, lobster and foie, or 'slum' it with mini wagyu and foie burgers with fries and house made tomato sauce, and show-stopping desserts including a praline and apricot Paris-Brest and a 'surprise' chocolate ball encasing intense and silky vanilla ice-cream. Try not to fill up on their very very fine complimentary bread basket.
Shop 315 & 401, The Landmark, Central, Hong Kong
Tim's Kitchen
I would return to this restaurant in a heart beat. Signature dishes we tried such as the steamed whole crab claw with winter melon and a stunning braised pomelo pith in shrimp roe sauce, left me feeling as though we'd only just scratched the surface of what brilliance this restaurant has to offer. The pomelo pith, somewhat reminiscent in texture (in a good way) of rehydrated mashed potato and gravy, was utterly brilliant. Kick start the meal with a cold appetiser of eggplant with peanut and sesame sauce.
93 Jervois St, Sheung Wan, Hong Kong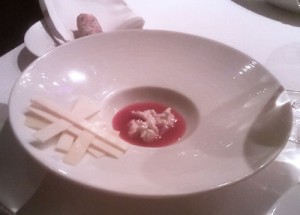 (Pre dessert and cheese course at Pierre)
Pierre at Mandarin Oriental
This restaurant wasn't on my short list of places to visit but we were swayed to go on hearing that Pierre Gagnaire himself was going to be in the kitchen to launch his new menu. Typical of Pierre Gagnaire's style, each course comprised multiple little dishes following a theme. Highlights included several dishes from the 'French Cheese' course, namely, shavings of comte and white chocolate served with white walnuts and a grape reduction; a rich onion soup hiding a piece of melting reblochon, topped with thinly shaved croutons; and a Roquefort creme brulee with yogurt soup and caramelised pear. If you're feeling strong, don't miss the 'Grand Dessert', a 6 course extravaganza featuring dishes like a bowl of smoked milk with coffee jellies and lime sorbet. The take-home chocolate cake given to you as you leave, is also a nice touch.
5 Connaught Road, Central, Hong Kong
Ming Court at Langham Place Hotel
Contemporary Cantonese cuisine with fusion touches. Has an extensive menu which also features the executive chef's medal winning dishes from Hong Kong's annual Best of the Best Culinary Awards. We tried the 2010 gold winner of pan-seared chicken, water chestnuts, black truffle and crisp pumpkin, as well as succulent Chiu Chow style roasted goose, stir-fried sliced garoupa with mushrooms and dried shrimp roe, and braised grapefruit peel. Although not usually a marshmallow fan, I also loved the complimentary petit fours of tiny rabbit shaped marshmallows topped with dessicated coconut.
555 Shanghai Street, Mongkok, Kowloon, Hong Kong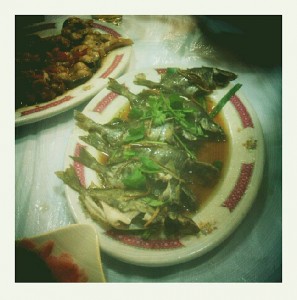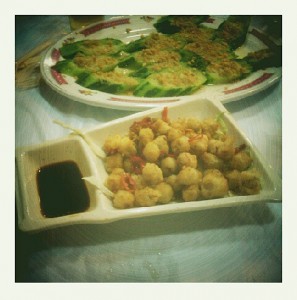 (Small local fish with citrus peel, slimy gourd with garlic, deep fried fish mouth, at Siu Choi Wong)
Siu Choi Wong
One of the few remaining dai pai dong in Hong Kong, that are gradually being shut down or moved indoors into cooked food centres, for reasons of hygiene. B's work colleagues took us here to sample typical home-style cooking. Heart-warming dishes with punchy flavours and lashings of garlic.
43 Fuk Wing Street, Sham Shui Po, Hong Kong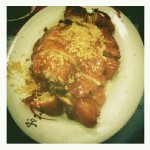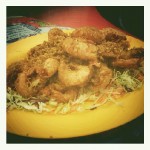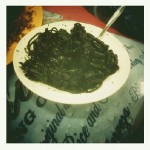 (Wind sand chicken, garlic mantis prawns, squid ink noodles at Tung Po)
Tung Po Seafood Restaurant
One for multiple visits. Friends who live locally chose to take us to this restaurant. It is an indoors dai pai dong with terrific atmosphere and amazing food, a local favourite that has become even busier since Anthony Bourdain's No Reservations visit. Some recommendations from their endless menu : razor clams with black bean sauce, garlic mantis prawns with all the 'best bits' of the prawn still attached, wind sand chicken, duck rice in lotus leaf, ultra fresh fish in a salt crust and their signature squid ink spaghetti.
Java Road Cooked Food Centre, 2/F, 99 Java Road, North Point, Hong Kong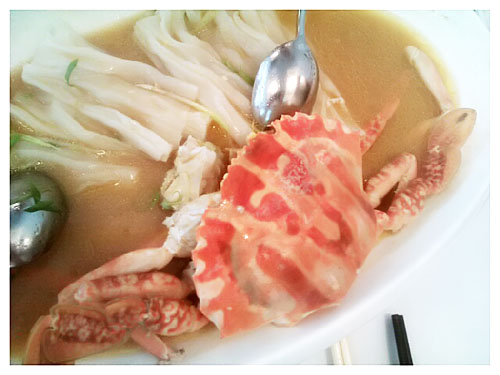 (Steamed flower crab at The Chairman)
The Chairman
We ended our holiday with a meal at The Chairman. Notable for their dedication to using high quality fresh ingredients either made from scratch or carefully sourced. Do not even contemplate visiting this restaurant without ordering their steamed flower crab in aged ShaoXing, chicken oil and flat rice noodles. Our crab which cost around A$100 (market price) fed us very well, leaving us only just enough room to also sample some perfectly smoked 'Baby Pigeon with Longjing tea and Chrysanthemum' and sticky 'Braised Spare Ribs with Preserved Plums in Caramelized Black Vinegar'.
18 Kau U Fong, Central, Hong Kong
[End Notes :
1 This is by no means a definitive list of what Hong Kong has to offer. Rather I think our choices provided us with a broad impression of their food scene. One of the restaurants I regret not getting an opportunity to visit was Yardbird. Given more time, I would've loved to check out some congee, claypot rice and noodle joints as well.
2 Some restaurants set the table with double sets of chopsticks. For hygiene purposes, you may opt to use one set specifically for picking up items from communal dishes and the other set for eating with.
3 Steamed white rice is considered filler and is rarely offered unless you specifically ask for it. We didn't bother with it and frankly, I didn't miss it at all. ]
Tags: dining out, Hong Kong, Joel Robuchon, Pierre Gagnaire, restaurants, travel