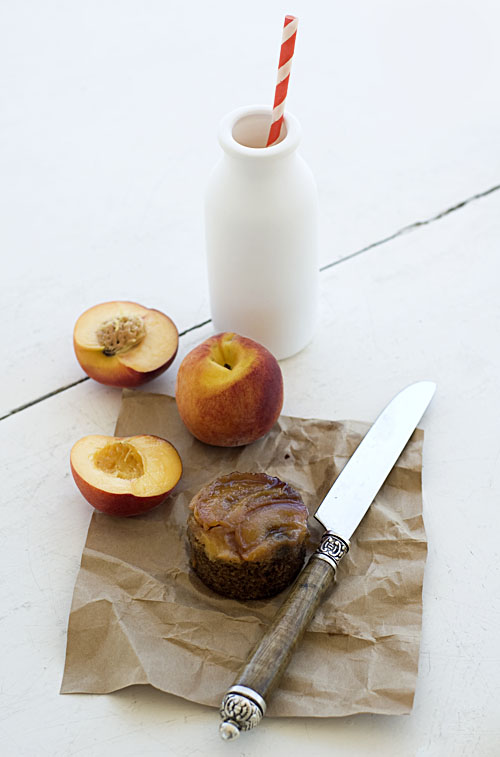 (Yellow peach upside-down gingerbread)
Summer is such a bitch. In exchange for the chance to dive into a big bowl of stone fruit and berries, you have to endure not only juice but copious amount of sweat dribbling down your chin. For the perfect weather in which to prove bread dough, you have the less-than-desirable climate to be turning on any oven. For the joy of ice-cream, the pain of it melting too quickly.
Over the past week, it has been a great pleasure to step into the kitchen each morning because of the lingering scent of yellow peaches ripening on the counter top. I deliberately bought too many peaches so that I would force myself to do a bit more than just eat them. But first, I ate one. Then I tried pickling the less ripe ones in rice wine vinegar and chilli, to slip into cheese and ham sandwiches. This was not deemed a complete success by the boy, so I ate a few more peaches. Then I saw David Lebovitz's recipe for a nectarine and raspberry upside-down gingerbread, and that sealed the fate of a third of my stash.
This recipe has so many things going for it. It is exactly how I like my gingerbread – soft, moist and spicy, with the added bonus of having a caramel-slicked layer of peach slices on top. Less sunburn, more golden-hued cakes please.
Oh and if you want to argue the ridiculousness of baking in the Summer, well, all I can say is that it's a bitch isn't it, and I now have gingerbread, while you don't.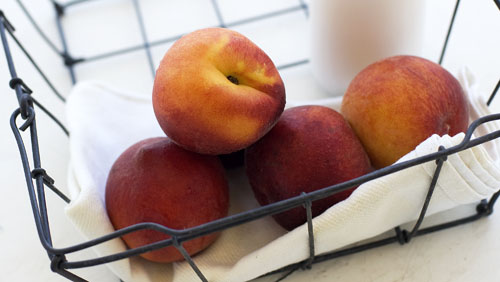 (The recipe for this delicious gingerbread is from this book.)
Tags: brown sugar, cinnamon, David Lebovitz, gingerbread, peach